Shakti Button, Women Safety Mobile App, launched by Hon'ble Chief Minister, Himachal Pradesh
Ajay Singh Chahal, Himachal Pradesh
ajay[dot]chahal[at]nic[dot]in
|
Feb 16, 2018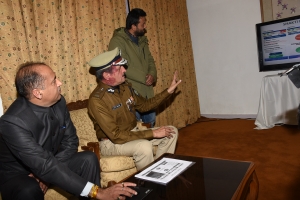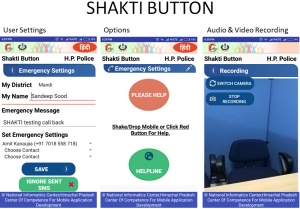 Sh. Jai Ram Thakur, Hon'ble Chief Minister of Himachal Pradesh launched the Shakti Button, Android Mobile Application for the safety of women, on 26th January 2018 at Shimla. Sh. Suresh Bhardwaj, Hon'ble Education Minister, Sh. Vineet Chawdhry, Chief Secretary, Himachal Pradesh and Smt. Manisha Nanda, Additional Chief Secretary to Chief Minister and Sh. S.R. Mardi, Director General of Police were present on the occasion. 
Sh. S.R. Mardi, DGP Himachal Pradesh police explained the functionality of the Shakti Buttion mobile application. The mobile app is available on the Android platform and is bilingual. It sends the GPS location of the crime scene and starts auto-recording of the scene on the mobile phone. Wrongly sent alerts can be recalled through the App itself.
The women can download it, store 3 emergency numbers and enter their district location and name etc. In case of emergency, they just have to shake the mobile phone or press on the large Red button. The App uses the GPS for communicating the location of the women, SMS feature to send SMSs to emergency contacts and to the Himachal Pradesh police central dashboard. The dashboard is web-based and monitored round the clock. Besides, there are Helpline numbers for various kinds of emergency services which can be directly dialed from the App by pressing on these.
The Hon'ble Chief Minister appreciated the special effort of HP Police and National Informatics Centre, in developing the app in a short time and expressed confidence that it will actually help the women in the State through prompt police help.
The Shakti Button mobile app has been developed by the Mobile App Competency Centre, Himachal Pradesh. Sh. Sandeep Sood, Group Head and Sh. Amit Kanojia, Scientific Officer, have developed this App in a very short time to achieve one of the Hundred Days targets of Himachal Pradesh Police, after the formation of the new Government in the State on 27th December 2018. The app is available for download from the Himachal Pradesh official portal, HP Police website at http://hppolice.nic.in, NIC eGovmobile Apps store at https://egovmobileapps.nic.in/