Master Trainers Workshop on National Government Services Portal
Shashi Kant Pandey, Delhi
sk[dot]pandey[at]nic[dot]in
|
Oct 16, 2017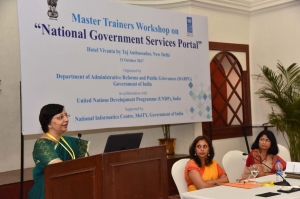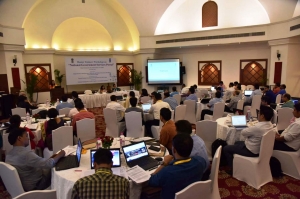 A one day Master Trainers Workshop on National Government Services Portal (NGSP) - https://services.india.gov.in designed and developed  by National Informatics Centre was organized by Department of Administrative Reforms and Public Grievance (DARPG) in collaboration with NIC & UNDP, India at Hotel Vivanta by Taj Ambassador, New Delhi on 13th October 2017.

Addressing the participants in the inaugural session Smt. Smita Kumar, Joint Secretary, DARPG lauded the efforts of  NIC in developing the Government Services Portal and praised the active participation of the NIC team in management of the portal. She expressed that  ongoing  improvements in National Portal and Government Services Portal by NIC would strengthen India's Online Services Index in the global ranking of United Nations Global e-Government  Survey.
Smt. Alka Mishra, Senior Technical Director, NIC and HoD, India Portal explained in detail the objective behind the creation of National Government Services Portal and encouraged the participants to contribute actively on the Portal thereby making the services provided by Government entities easily accessible to the Citizens.
The other members representing the India Portal team (NIC) were Shri Lokesh Joshi, TD, Shashi Kant Pandey, PSA and Mr. Pankaj Kumar, Scientific Officer.

The NIC team presented the workflow and best practices in creating the metadata for the Service URLs. Detailed information on the usage of  Content Management System to contribute the service was provided followed by an interactive hands on session.  The NIC team also answered the technical queries of the participant on various aspects of the project.

Representatives from UNDP explained the important of the National Government Services Portal and elaborated how the presence of more and more services on this portal would help the Country improve its Global ranking.

54 participants from 22 State/UT(s) and 7 Ministry/Department(s) attended the workshop. At the end of workshop, the participants provided the tentative numbers of  services they would contribute on the NGSP to improve the visibility of services provided by their State/UT/Ministry/Departments.