Ministry of Youth Affairs and Sports
Lokesh Joshi,
lokesh[at]nic[dot]in
|
Feb 11, 2016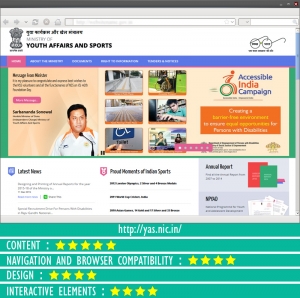 The Ministry of Youth Affairs & Sports was initially set up as the Department of Sports in 1982 at the time of organization of the IX Asian Games in New Delhi. Its name was changed to the Department of Youth affairs & sports during celebration of the International Youth Year, 1985. It became a Ministry on 27th May 2000. Subsequently, the Ministry has been bifurcated in Dept. of Youth Affairs and Dept. of Sports.
The conscientiously designed website offers plethora of content. Homepage of the website displays information about the ministry with two separate sections catering to information on the department of sports and department of youth affairs. Common information related to both the departments like tenders, RTI and news is also displayed on the homepage.
The website comes with a detailed Site Map and a Search button facilitating text search in web pages as well as linked documents. It also has overtly stated Privacy Policy, Hyperlink Policy, Content Copyright Policy and Terms & Conditions. The website is compliant with GIGW guidelines and site is compatible with assistive technologies such as Screen Readers Access to facilitate readers with visual impairment.
The website is compatible with all major browsers and comes with a Feedback section for inviting valuable comments/feedback from users. Link to a photo gallery section showcasing important activities of the ministry is present on the homepage.
The website has an easy to use navigation and the pages are designed to be responsive across various screen sizes and devices.