eGovernance workshop at Unnao, Uttar Pradesh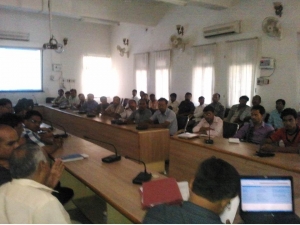 Information Technology has played a key role in making the life easy and simple for the people. The launch of State Portal, State Service Delivery Gateway (SSDG) and eForm on 1st August 2012 by Government of Uttar Pradesh is another step in the same direction. It will facilitate the common man to access 26 government services from the Information kiosks being established in the villages more commonly known as Common Service Centres or Lokvani Centres.
The state government wants to leave no stone unturned to ensure the success of the project that's why several workshops and training sessions are being conducted around the state. These workshops are aimed to introduce the employees of the eight line departments to the new working environment and explain them the electronic process flow of the services. In the same series, on 21st July 2012 a workshop was conducted in Unnao district in which field level officials and employees of the eight departments were provided training on eForms and digital signatures. Shri Ranbir Prasad, District Magistrate, Unnao inaugurated the workshop with senior district administration functionaries.
The District Magistrate in his address to the participants emphasized on the need of minimum 25 Common Service Centres operational in the district prior to the launch of the services. He also mentioned that the setup of these Common Service Centres (CSCs) will help the rural people to easily access the government services.
Submitted By:
Anshu Rohatgi, Uttar Pradesh
|
anshu [dot] rohatgi [at] nic [dot] in
Search Online News