Launch of e-Governance portal for Labour department, Chandigarh
Vivek Verma, Chandigarh
vivek[dot]verma[at]nic[dot]in
|
May 9, 2018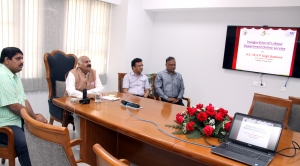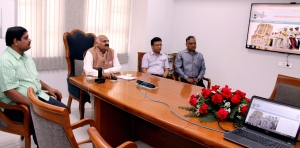 The eGovernance Portal for Labour Department (http://labour.chd.gov.in)  was launched by H.E. Sh. V.P. Singh Badnore, Governor of Punjab and Administrator UT Chandigarh on 8th May 2018.    Also present on the occasion were Mr Ajoy Kumar Sinha, IAS Finance Secretary cum Secretary Labour,  Mr Anurag Aggarwal, IAS Home Secretary. Mr Ajit Balaji Joshi, IAS Deputy Commissioner cum Labour Commissioner and other officers of Chandigarh Administration.
Giving presentation of the initiative, Mr Ajit Balaji Joshi explained each and every option available for the citizens and also shared the plans for enhancing it further for the benefit of the citizens. In his address, Administrator UT Chandigarh appreciated the efforts and desired that the system should be free from any manual intervention so that it can benefit the citizens.
The Labour Department is responsible for the enforcement of various labour laws. These laws provide for basic working conditions, statutory terms of employment including welfare and also for maintenance of industrial relations and involves other stakeholders' i.e. the employers and the employees. It is incumbent upon the labour department to not only ensure the implementation of labour laws in letter and spirit but also to maintain a balance in the industrial relation so as to ensure productivity and economic growth. The main function of the department is to maintain industrial peace and cordial relation between the worker and his employer.
With a need of having transparency and to minimize or to eliminate, wherever possible, the discretionary powers of the officers in implementation of the Labour Laws, it was envisaged by Deputy Commissioner Chandigarh to deliver Citizen Centric Services in electronic mode. It was with a view to help in harnessing the maximum benefits of these policies and ease the process flow of services under labour department.
Keeping the above in view, it was decided to roll out "Registration of employee under shop act" service in the initial phase in electronic mode. This service will be accessible to the concerned user in online mode for registration, renewal and amendment under Shops Act.
Steps and specifications:
Login Id and password creation: On the web-portal, the user has to create his / her login Id using valid email ID and Mobile No. Enter relevant information (as required): During registration the user has to create a profile which is their Basic Information Performa.
The Login Id and password details will be sent on user's registered email-id and Mobile number.
Online mode of application i.e. citizen can apply for the services pertaining  to labour department while sitting at home.
After logging to his / her profile, user will be able to view dashboard. To apply for fresh / renewal / amendment, user will be asked to fill Application Form F in online mode only. User will have to enter no. of workers employed to complete the form.
Next, user has to fill Form B, a system generated form. In this form user will have to enter workers information like name, father name, working hours, interval for rest, and week off days and then submit the form.
Applicant needs to submit the required documents in the prescribed format and size.
Applicant pays the fees through challan and enters the challan no.
Submits the application for processing. Applicant can track his/her application with a unique application no and relevant updates will be sent on registered mobile number and email id as well. In case of any objection / remarks applicant will be able to revert and provide any additional information / document required.
After the application is scrutinized and approved by different department officers like Labour inspectors and ALC in online mode, online license / certificate will be generated. The applicant will be able to download the document through his/her Login ID.
In case applicant requires Amendment, then applicant has to fill Form G. This is a system generated form after which the user needs to pay the required fees and submit the form.
Salient features:
Processing of application pertaining  to the services of labour department is completely online. No manual intervention.
Digitally signed notings and certificates generation.
Convenience to the applicant to apply in ONLINE mode sitting at his home.
Provision to track the status of application
Notifications and communications through SMS and Email.
Online verification of the certificate generated
Provision to apply for the renewal of license with a single click