Related Articles
Showing 61 to 70 of total 86 items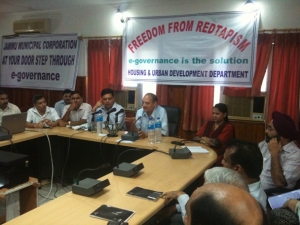 Principal Secretary Housing and Urban Development Department, J&K, Mr. Suresh Kumar, IAS formally dedicated the E-Governance Services to citizens of Jammu in a very simple and impressive function held at Deputy Commissioner Office Jammu on 06/08/2012 in presence of media personals and citizens of Jammu. Among those who were present in the function were Vice Chairman JDA Mrs. Sarita Chouhan IAS, Deputy Commissioner Jammu Mr. Sanjeev Verma IAS, Municipal Commissioner Jammu Mr. Kuleep Khajuria,
...
Jit Raj, Jammu and Kashmir
'Guidelines for Indian government websites' received the gold award in the 'ICT' category and 'central government' sector at the Skoch Digital Inclusion Awards 2012. The award was presented to the group by Mr Salman Khurshid, Hon'ble Minister, Ministry of Law & Justice & Ministry of Minority Affairs at a function held on 18th of September 2012. NIC has formulated 'Guidelines for Indian Government Websites' with a view
...
Lokesh Joshi, Delhi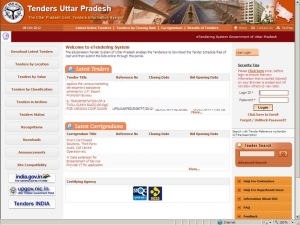 eProcurement is one of the key mission mode projects initiated by Government of India to channelize the government tendering process and to make it more transparent and business friendly. Uttar Pradesh adopted the system in June 2008 and since then more than 2600 tenders with a net worth of about 6555 crores have already been published on the portal. eProcurement provides a robust & comprehensive platform to the business community to participate in the government tender process
...
Anshu Rohatgi, Uttar Pradesh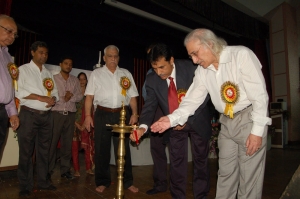 A university level workshop on National e-Governance Plan was held on 29th September 2012 at Banaras Hindu University, Varanasi. The workshop was jointly organised by the computer centre of BHU and Department of Electronics and IT (DeitY), Ministry of Communication & Information Technology, Government of India, New Delhi. The purpose of the workshop was to create awareness about e-Governance and National e-Governance Plan (NeGP) to the students of the University and make them aware of the
...
Anshu Rohatgi, Uttar Pradesh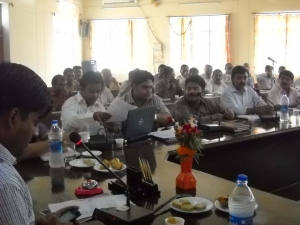 Training workshops and hand holding sessions were held in all the districts in Uttar Pradesh in September – October 2012 for streamlining the implementation of the eForms, SSDG & State Portal project in the state. The handholding workshops were aimed to reduce the pendency of applications by bringing all the stake holders to a common platform and resolving the issues of Common Service Centre Operators, officials of line departments and district administration. In the last three months,
...
Anshu Rohatgi, Uttar Pradesh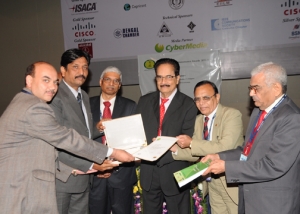 The Manav Sampda initiative, developed and implemented by NIC Himachal Pradesh State Centre as a complete Human Resource Management solution, has won the CSI eNihilent Award of Excellence under the G2E Project category. The Awards were presented in the recently held CSI Annual Convention at Kolkotta on 2nd December 2012. Dr. Saurabh Gupta, State Informatics Officer and Sh. Sanjay Kumar, Principal Systems Analyst received the award in the CSI Annual Meet in Kolkotta. Manav Sampada is
...
Ajay Singh Chahal, Himachal Pradesh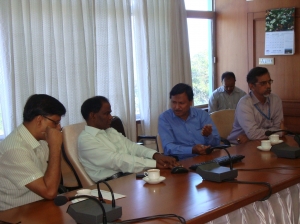 Mormugao Port, GOA one of the oldest ports on the west coast of India, with a fine natural harbour, has been relentlessly serving the nation in its economic development for over a century. It is the premier iron ore exporting Port of India with an annual throughput of around 50.02 million tonnes of traffic. Inspired by the success of e-procurement at Visakhapatnam Port Trust, Mormugao Port Trust (MPT) requested NIC for a presentation on GePNIC during the month of April 2012. After
...
A. K. Hota, Odisha

The launching of National Animal Disease Reporting System (NADRS ) in Odisha was organized in a meeting through Video Conferencing on 02-02-2013 at 12:30 PM at NIC, Bhubaneswar. Secretary, Fisheries & Animal Resources Development Sri Satyabrata Sahoo,I.A.S chaired the meeting for the said occasion. The meeting was attended among others by Director,A/H Sri Benudhar Dash, IAS, Joint Director, Dr. U. C. Patra, Dy. Director ( Disease Control ) Dr. N.Chaudhury, Nodal officer Dr.
...
A. K. Hota, Odisha
The 9th Agrotech Exhibition-cum-Seminar was held at IISR (Indian Institute of Sugarcane Research), Telibagh, Lucknow from 16th to 18th February, 2013. The event was organised by a popular monthly magazine 'Agriculture Today' in association with premier agricultural institutions like PHDCCI, CARD, ICAR and it was supported by Government of Uttar Pradesh. The event aimed to provide an opportunity for participants to showcase products, services, schemes and technologies to potential
...
Anshu Rohatgi, Uttar Pradesh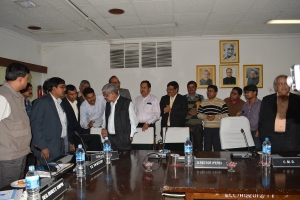 Eastern Coalfields Limited is the oldest subsidiary of Coal India Limited situated in West Bengal and parts of Jharkhand. ECL in its Credit has some deepest mines of World with superior grade of coal having high heat content suitable for Steel making. It was during mid of 2011, ECL inspired by successful implementation of e-Procurement at it's Sister Organization MCL under Coal India Limited, expressed their interest to adopt GePNIC to bring transparency in it's tendering
...
A. K. Hota, Odisha
Search Online News