News matching with tag "Land Records"
Showing 1 to 5 of total 29 items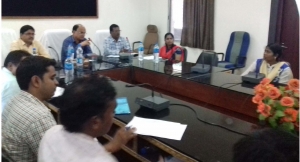 Training programme on Bhunaksha software on map correction was held in the DRDA Conference hall, Jharsuguda, Odisha on 09/08/2017 for all the 5 Tahasil officials and 32 RI officials of Jharsuguda District. The training programme was organized by NIC, District, Unit, Jharsuguda. The main objective of the training programme was to train the participants particularly RI officials on how to make digital correction of maps using Bhunaksha software. The Addl. Tahasildars, R.I.s, ARIs, Amins, Record
...
A. K. Hota, Odisha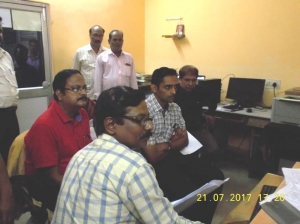 The Land Records Management System, a web enabled application for online mutation, was launched at Kendrapara Tahasil recently. It is a transaction based applications which interacts with the e-Registration application through web services. It helps the Mutation Officer (Tehsildar/Addl. Tehsildar) posted at tehsil to initiate a mutation case instantly whenever there is a transaction at Registration office. Digital Signature Certificate and Biometric authentication system has been integrated
...
A. K. Hota, Odisha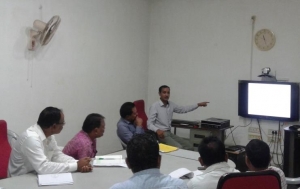 Training on Bhunaksha was organised at NIC, Balangir for all 14 Tahasils of Balangir District, Sub-division wise. The schedule was as follows: 05.07.2017 & 06.07.2017 - Balangir Sub-Division (6 Tahasils) 13.07.2017 & 14.07.2017 - Patnagarh Sub-Division (3 Tahasils) 19.07.2017 & 20.07.2017 - Titilagarh Sub-Division (5 Tahasils) Sub-Division wise Tahasils were allotted two days each for
...
A. K. Hota, Odisha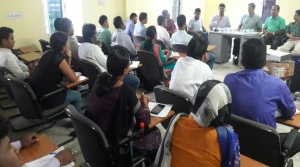 A two days long training programme on Bhunaksha s/w on map correction was held during 5th and 6th June'2017 in the e-Governance training centre of Collectorate, Ganjam for all the 23 Tahasil staffs of Ganjam District. The training was conducted Sub-Division wise. Ganjam has three sub-divisions i.e. Chhatrapur having 8 Tahasils, Berhampur having 7 Tahasils and Bhanjanagar having 8 Tahasils. The R.I./ARI/Amins of the tahasils participated in the training programme. The training programme
...
A. K. Hota, Odisha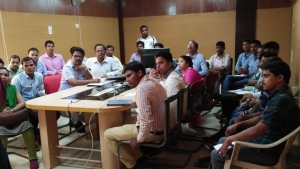 A training program on BHUNAKSHA was conducted for Tahsil Officals of Jajpur district on 06.06.2017 at NIC District Centre, Jajpur, Odisha. Welcoming the participants Sri S M Satpathy, Technical Director and DIO gave a brief introduction about the BHUNAKSHA software and features available. He informed that in this project the spatial data of village maps both Mosaic and individual sheets are prepared. The spatial data is integrated with textual RoR. Sri Sapan Kumar Nanda, OAS,
...
A. K. Hota, Odisha
Search Online News