News matching with tag "ICT in Districts"
Showing 1 to 5 of total 41 items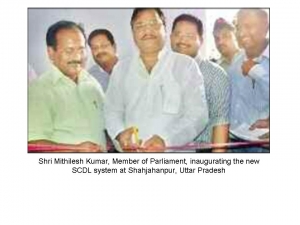 Smart Card based Driving License (SCDL) was inaugurated at ARTO Shahajahanpur Uttar Pradesh by Shri Mithilesh Kumar, Member of Parliament and Shri Raj Mani Yadav, District Magistrate Shahjahanpur. The district is in the seventh and last phase of SCDL Implementation in Uttar Pradesh as decided by the UP Transport Department. The first SCDL of the district was issued to Shri Mithilesh Kumar. Senior functionaries of the transport department Shri Shikhar Ojha, ARTO Enforcement and Shri R.P Gangwar,
...
Anshu Rohatgi, Uttar Pradesh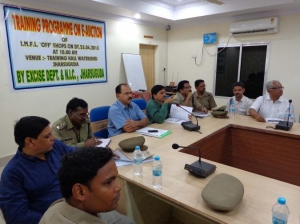 One day Training Programme for Bidders of Jharsuguda District on eAuction of IMFL 'OFF' Shops was conducted on 23/04/2013 at Training Hall, Watershed, Jharsuguda. Shri Uttam Kumar Meher, Superintendent of Excise, Jharsuguda addressed the participants and explained importance of the project. About 50 perspective bidders attended the training programme. He insisted for active participation in the training programme for clear understanding and successful implementation of the
...
A. K. Hota, Odisha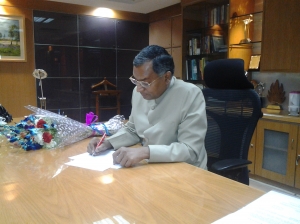 Shri M. Moni takes over as DG, NIC from 1st May 2013 Shri M Moni, took over the charge from Dr. Y.K. Sharma as the new Director General of NIC on 1st May 2013. In his maiden speech, he expressed his gratitude towards SIOs, DIOs, Informatics officers and all other NIC people for their sincere, exemplary contributions towards NIC. He stressed upon that every individual should be at the centre of excellence of its sphere of action. He underlined the importance of development and research in e-Governance
...
Alka Mishra, Delhi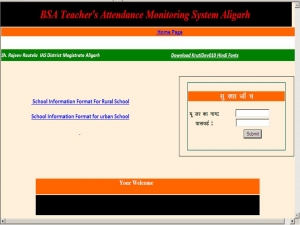 An online system has been designed and developed by NIC, Aligarh to monitor the prevailing condition of primary schools in the district. The system keeps record of available staff, attendance of students, mid-day meal, uniform distribution, condition of toilets, hygiene, boundary wall, electrical connection, infrastructure and disbursement of scholarship of all the district primary schools. The information is updated electronically on daily basis by the office of BSA (Basic Shiksha Adhikari) and
...
Anshu Rohatgi, Uttar Pradesh
Days have gone when investigating officers had to plan their visit to the primary schools and government hospitals in the remotest areas of the district to monitor their condition and facilities provided by them. There were many pitfalls in the process; the government school and hospital authorities were informed about the arrival of investigating team as a result they manipulated the facts; lots of money and time was also spent to plan these visits and yet nothing concrete could be traced. In
...
Anshu Rohatgi, Uttar Pradesh
Search Online News