News matching with tag "Inaugurations"
Showing 1 to 5 of total 44 items
Hon'ble Shri Nitish Kumar, Chief Minister, Bihar on 25.04.2013 inaugurated Prisons ERP System at Model Central Prison, Beur, Patna from the "Samvad", CM Secretariat, Patna through videoconferencing. Shri Amir Subhani, IAS, Principal Secretary, Home Department, Bihar, Shri Abhayanand, IPS, DGP, Bihar, Shri Anand Kishore, IAS, IG Prisons, Shri Anil Kumar, ADGP, Bihar Police Housing Board, Dr. Sitansu S. Jena Chairman, NIOS, New Delhi, Shri Rajiv Prakash Saxena, Deputy
...
Rajiv Ranjan, Bihar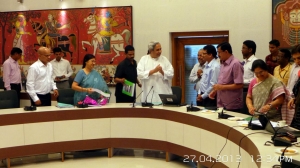 Hon'ble Chief Minister, Odisha, Sj. Naveen Patnaik inaugurated the official website of the State Commission for Persons with Disabilities, Odisha on dt-27.04.2013 at 3rd Floor Conference Hall, Odisha Secretariat in a meeting organized by Women and Child Development Department, Govt. of Odisha. While inaugurating the website, CM highlighted that the State Commission for Persons with Disabilities portal is accessible to all users, irrespective of the device and technology in use or ability.
...
A. K. Hota, Odisha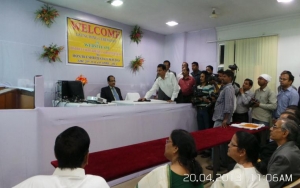 The official website of District Judge court Khurda (http://districtcourtkhurda.nic.in) was inaugurated on Dt-20.04.2013 by Hon'ble Shri Justice M. M. Das of Odisha High Court in the Chamber of District Judge, Khurda at Bhubaneswar in the presence of Shri Debabrata Dash, Hon'ble District Judge, Khurda. This is the 2nd District Judge court website of Odisha after District Judge court Cuttack. Speaking on the occasion Hon'ble Justice Shri Das explained about the benefit
...
A. K. Hota, Odisha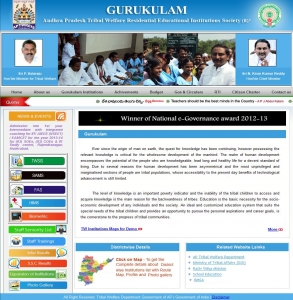 The Andhra Pradesh Tribal Welfare Residential Educational Institutions Society (APTWREIS) popularly called "Gurukulam" was established to manage the enrollment of tribal children in schools and reduce their drop-out rate besides leveraging the quality of education imparted to them. The core vision of the project is to ensure an all-round development of tribal children through quality education so that they can become the real assets of the nation. For its commendable feats
...
Lokesh, Scientist-D, National Informatics Centre, Delhi NCT
District Magistrate, Hardoi Shri A.K Dwivedi inaugurated the single window kiosk at tehsil Sadar on 1st April 2013. Computerized Caste, Income and Domicile Certificates will be issued to the citizens from these Kiosks. The computerized certificate delivery system has multiple benefits over the manual process, previously an applicant had to make multiple visits to the concerned office and wait in long queues to obtain a certificate. Now the certificates will be delivered from the kiosk and
...
Anshu Rohatgi, Uttar Pradesh
Search Online News