News matching with tag "Conference"
Showing 1 to 5 of total 60 items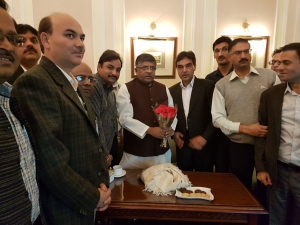 Sh. Ravi Shankar Prasad, Hon'ble Union Minister for Electronics and Information Technology, Government of India visited Shimla, Himachal Pradesh on 18th September 2017. The Hon'ble Minister was received by the SIO NIC HP at the Jubbarhatti, Shimla Airport along with other MeitY officers. He was presented with a guard of Honour by the State Police team on arrival. The Hon'ble Minister reviewed the activities of all MeitY organizations, namely, NIC, NICSI, NIELET, CSC, STPI
...
Ajay Singh Chahal, Himachal Pradesh
Three Zonal Workshops on Works MIS software have been conducted for the Himachal Pradesh Irrigation and Public Health Department officers and officials posted at Mandi, Dharamshala and Hamirpur Zone offices. These workshops were conducted on 29th May at Mandi, 30th May at Dharamshala and on 31st May at Hamirpur. The objective of these Zonal Workshops is to sensitize and create awareness among the Departmental officials towards complete paper-less implementation of the Works MIS software solution
...
Ajay Singh Chahal, Himachal Pradesh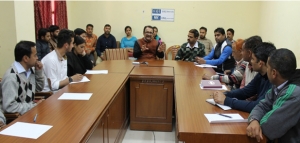 A workshop-cum-training program on Aadhaar seeding in Land Records was held for the officials of the Revenue Department in District Una, by NIC District Unit on 17th March, 2017. Sh. Vikas Labroo, Deputy Commissioner, Una chaired the training session and directed the officials to collect Aadhaar number of land owners in their respective villages within one month by 15th April, 2017 and start seeding in land records through laptops/net-connectivity available with them or by visiting their tehsil
...
Ajay Singh Chahal, Himachal Pradesh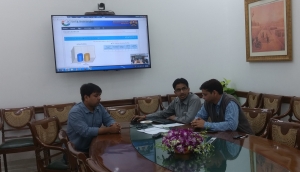 eSamikSha, an online Monitoring and Compliance Mechanism has been developed by Cabinet Secretariat Informatics Division, to fast track the compliance of pending action points, proposal, targets, etc. of various Ministry/Department/Organization/Agency of Govt. of India and Government of States and UTs. The Portal has been designed in such a way that it will enhance efficiency, bring transparency, reduce the need of protracted correspondence and improve the communication between Government
...
Dr. Shubhag Chand, Delhi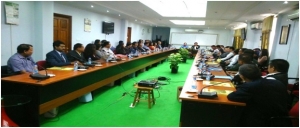 eProcurement Conference in Govt. of Mizoram Transparency in Public Procurement through GePNIC With the objective to bring total transparency in Public Procurement, Govt. of Mizoram conducted two days' workshop at State Capital Aizawl on 17th and 18th Nov 2016. State has been using the online eProcurement system of NIC called GePNIC for quite some time. To implement the same across the state, recently Govt. of Mizoram fixed Rs. 1 cr. threshold limit for all contracts to be done in online
...
Lalhmachhuani, Mizoram
Search Online News