News matching with tag "Meeting"
Showing 1 to 5 of total 15 items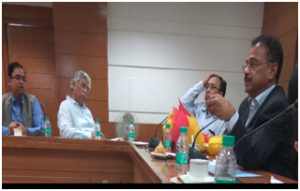 End to End Computerization of TPDS Operations in Haryana has achieved incomparable milestones in implementation of the country's largest social welfare scheme, thereby, drawing attention from across the globe. While it has become a role model for the other States in the Country to follow, delegations from across the globe are also keen to understand the trajectory followed by Haryana. In this connection a delegation from Bill and Melinda Gates Foundation (BMGF) from Seattle (USA)visited
...
Deepak Sawant, Haryana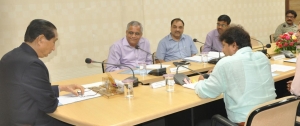 The Think Tank meeting was organized at Governor House, Bhubaneswar, Odisha to deliberate on "Digital Citizenship and Digital Leadership for building Digital India". Experts from Infosys, TCS, NIC, IIIT, ICICI Bank, Axis Bank, etc. had a brainstorming session on various aspects of achieving Digital Citizenship in Odisha. Dr. A. K. Hota, STD and Sri Niladri Bihanty Mohanty, Scientist-C represented NIC, Odisha. Sri Kamala Kanta Barik, Scientist-D, Nodal Officer for ICT support to
...
A. K. Hota, Odisha
The Government of Haryana has decided to create a single source of resident data through a unified State Resident Database (SRDB), where the Aadhaar based eKYC enabled survey should be conducted by using Android Tabs – 'The Jan Seva Survey' (JSS). This would be an extensive exercise involving about 15,000 enumerators in the field to complete the task. In this regard, a startup meeting was held over NICNET VC setup on 29th July 2017 at 5.00PM under the chairmanship of Hon'ble
...
Deepak Sawant, Haryana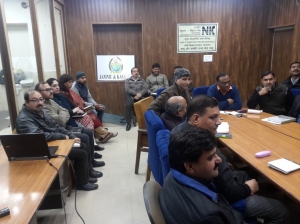 A review meeting of NIC J&K State Centre and NIC District Centres held under the Chairmanship of J&K State Coordinator Shri A.K. Aggarwal, STD. on 11.01.2017 at NIC J&K State Centre Civil Secretariat Jammu. The agenda of the meeting was as follows: 1. To review State Level Projects 2. Central Projects – AEBAS, VAHAN/ SARATHI, E-Office etc. 3. Central
...
Jit Raj, Jammu and Kashmir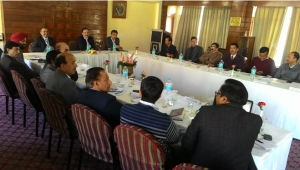 A two day stakeholders' appreciation seminar on Integrated Financial Management System (IFMS), was conducted on the 17-18th of November, 2016. The seminar was inaugurated at Hotel Holiday Home (HHH), Shimla by Shri Ram Mohan Johri, the Principal Accountant General (Audit). The event was organized by the office of Accountant General (Accounts and Entitlement), Himachal Pradesh. The seminar revolved around the change management pertaining to the different stakeholders in view of the implementation
...
Ajay Singh Chahal, Himachal Pradesh
Search Online News