News matching with tag "Visit"
Showing 1 to 5 of total 21 items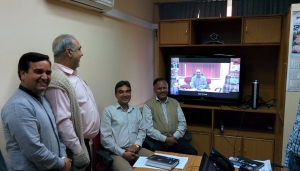 Sh. Ajay Mittal, IAS, the Secretary (Information & Broadcasting) Government of India visited NIC Himachal Pradesh State Centre at Shimla on 7th May 2016 and interacted with the NIC officers. The District NIC officials also joined the meeting over Video Conference. Sh. Ajay Mittal reviewed the projects done by NIC Himachal Pradesh, especially in the Transport sector as he was Additional Chief Secretary (Transport) to the Government of Himachal Pradesh before his current posting. He was informed
...
Ajay Singh Chahal, Himachal Pradesh
Tags:
Visit
11th Dec 2015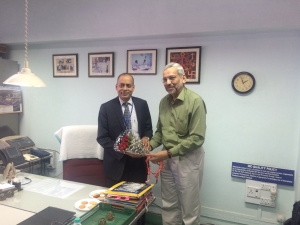 Dr. Ajay Kumar, Additional Secretary and Director General of NIC visited Mumbai on 7th Dec.2015. He had discussion with Mr. Moiz Husain Husain Ali, State Informatics Officer Maharashtra, Officers and Staff at State Centre Mumbai and District Informatics Officers and District Informatics Associates at 36 NIC District Centres of Maharashtra via Video Conferencing. AS & DG NIC was briefed by SIO Maharashtra about the activities of NIC Maharashtra. The role of NIC State & District Centres
...
Moiz Hussain, Maharashtra
The Parliament Sub-Committee on Official Language reviewed the proceedings of NIC Odisha State Centre on 11th April 2015. The committee was represented by Honourable MPs including Dr. Prasanna Kumar Patsani, Dy. Chairman, Sri Laxmi Narayan Yadav, Dr. Sunil Baliram Gaikward and Sri Vashistha Narayan Singh as members, Shri Surajbhan, Secretary, Ms. Abhilasha Mishra, Hindi Officer and Shri Rajesh Jha, Committee Assistant. Dr. Prasanna Kumar Patsani, MP, Lok Shabha, presided over the review
...
A. K. Hota, Odisha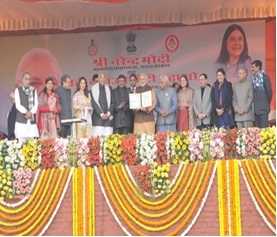 During the visit of Hon'ble Prime Minister Sh. Narendra Modi at Panipat, Haryana on 22-01-2015 for launch of 'Beti Bachao, Beti Padhao' programme, NIC Panipat Haryana rendered extensive ICT Services and Support. Control Room and Media Centre were equipped with latest hardware and networking infrastructure for PMO officers and SPGs. Apart from this, more 4500 I-cards were generated for general/VIP/VVIP persons at NIC District Centre Panipat. For extensive public awareness of this
...
Neeraj, Haryana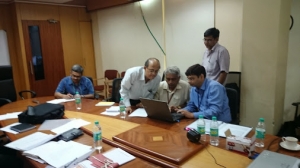 "ePMS, an On-line Project Management System for Maharashtra tracks the projects involving investment 100 crore to 1000 crore. It enhances the efficiency, bring transparency and improve the communication between industries to Government and State to Centre or vice versa. It automates the entire tracking of stalled investment projects in the context of the bottlenecks. Industries can submit their projects with issues after creating their login credentials. When any project with issues is being
...
Dr. Shubhag Chand, Delhi
Search Online News