News matching with tag "Visit"
Showing 1 to 5 of total 23 items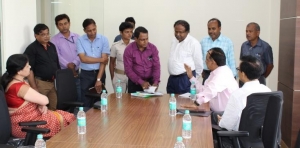 Director General, NIC, Smt. Neeta Verma accompanied by Shri S S Gahlout, DDG & Head (Infra.) visited NIC Odisha State Centre, Bhubaneswar on 2nd August 2017. Government of Odisha declared Madam as State Guest and accorded befitting hospitality. DG, NIC was greeted by Shri P. K. Pramanik, DDG & SIO & his Team. She visited the National Data Centre which is underway and reviewed the progress with NBCC and NIC Officials. At 3.30 pm DG, NIC had meeting with Commissioner-cum-Secretary
...
A. K. Hota, Odisha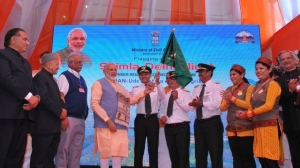 Sh. Narendra Modi, Hon'ble Prime Minister of India, visited Shimla on 27th April 2017 and inaugurated the first flight under UDAN scheme at Shimla. Under the Regional Connectivity Scheme 'UDAN', (Ude Desh ka Aam Nagrik),' the Government will provide air connectivity to the un-served airports across the nation. The flight charges will be at subsidised rate of Rs. 2,500 for per hour of flights. The scheme has been launched under the National Civil Aviation Policy (NCAP) which
...
Ajay Singh Chahal, Himachal Pradesh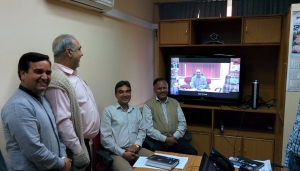 Sh. Ajay Mittal, IAS, the Secretary (Information & Broadcasting) Government of India visited NIC Himachal Pradesh State Centre at Shimla on 7th May 2016 and interacted with the NIC officers. The District NIC officials also joined the meeting over Video Conference. Sh. Ajay Mittal reviewed the projects done by NIC Himachal Pradesh, especially in the Transport sector as he was Additional Chief Secretary (Transport) to the Government of Himachal Pradesh before his current posting. He was informed
...
Ajay Singh Chahal, Himachal Pradesh
Tags:
Visit
11th Dec 2015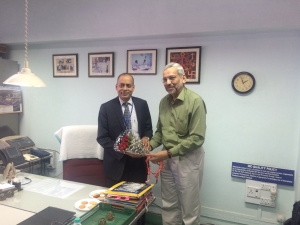 Dr. Ajay Kumar, Additional Secretary and Director General of NIC visited Mumbai on 7th Dec.2015. He had discussion with Mr. Moiz Husain Husain Ali, State Informatics Officer Maharashtra, Officers and Staff at State Centre Mumbai and District Informatics Officers and District Informatics Associates at 36 NIC District Centres of Maharashtra via Video Conferencing. AS & DG NIC was briefed by SIO Maharashtra about the activities of NIC Maharashtra. The role of NIC State & District Centres
...
Moiz Hussain, Maharashtra
The Parliament Sub-Committee on Official Language reviewed the proceedings of NIC Odisha State Centre on 11th April 2015. The committee was represented by Honourable MPs including Dr. Prasanna Kumar Patsani, Dy. Chairman, Sri Laxmi Narayan Yadav, Dr. Sunil Baliram Gaikward and Sri Vashistha Narayan Singh as members, Shri Surajbhan, Secretary, Ms. Abhilasha Mishra, Hindi Officer and Shri Rajesh Jha, Committee Assistant. Dr. Prasanna Kumar Patsani, MP, Lok Shabha, presided over the review
...
A. K. Hota, Odisha
Search Online News