News matching with tag "GIS services"
Showing 1 to 5 of total 23 items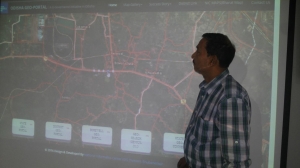 Odisha Geo-Portal (https:// gisodisha.nic.in) was designed and developed by Shri Bijaya Kumar Samal, Scientist-D, GIS Division, NIC, Odisha State Unit, Bhubaneswar. It was inaugurated by Shri P. K. Pramanik, DDG & SIO, Odisha on 19th November, 2016 in the Conference Hall of NIC. In this occasion, Shri Pabitrananda Patnaik, Technical Director and Head, Training Division welcomed all the participants and gave a glimpse of the portal followed by SIO's inaugural speech. All
...
A. K. Hota, Odisha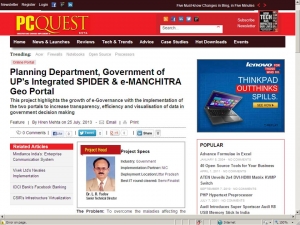 A new initiative "Case Study Section" of PCQuest website (http://www.pcquest.com/category/case_studies) has been started. Currently, this section features all IT projects received this year for stage II of the prestigious 'Best IT Implementation Awards' by PCQuest. These include all the winning IT projects, finalists, and semi-finalists. Two projects of Uttar Pradesh namely e-MANCHITRA and PRERNA, have been selected as semi finalist
...
Anshu Rohatgi, Uttar Pradesh
An article "e-MANCHITRA: A step towards geo-enabled decentralized planning and decision making in Uttar Pradesh" jointly authored by Dr. L. R. Yadav, Sr. Technical Director and Mr. R. S. Singh, PSA published in e-magazine "India Geospatial Digest August 2013", a Regional Initiative from Geospatial World. For full paper; pls refer the URL: htttp://www.geospatialworld.net/Paper/Case-Studies/ArticleView.aspx?aid=30625
Anshu Rohatgi, Uttar Pradesh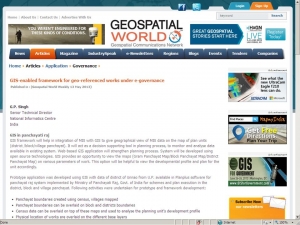 A paper titled 'GIS-enabled framework for geo-referenced works under e-governance' contributed by Shri G.P. Singh, Senior Technical Director, Director, National Informatics Centre, U.P. State Unit, Lucknow has been published in May 2013 issue of Geospatial World Weekly. The paper details the GIS framework that can help in integration of MIS with GIS to give geographical view of MIS data on the map of plan units (district /block/village panchayat). The study presented in the paper
...
Anshu Rohatgi, Uttar Pradesh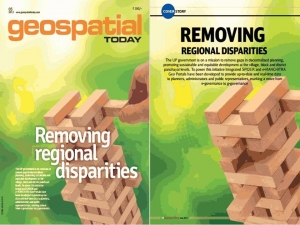 'Removing Regional Disparities' – an article contributed by Dr L.R Yadav, Senior Technical Director and Shri R.S Singh Principal System Analyst, NIC, Lucknow was published as the cover story in one of the leading magazines of GIS in India - 'Geospatial Today'. The magazine is mainly focused on publishing innovations in geospatial sector and always highlights projects that have remarkably changed the working methodology using GIS tools and impacted the citizens in
...
Anshu Rohatgi, Uttar Pradesh
Search Online News