News matching with tag "Data Centre"
Showing 1 to 5 of total 27 items
National Data Centre, Pune A Tier-III National Data Centre (NDC) is operational from 16th March 2010 at NIC, Pune. The Data Centre is spread across an area of around 10,000 Sq.ft in the first floor of NIC building. The Data Centre accommodates 137 server racks, 6 NW racks and a SAN set up of 50 TB that can be scalable upto 150 TB. It has multiple power supply and cooling distribution path as per the standards defined in TIA-942 specifications. Currently
...
Punam Gupta, Maharashtra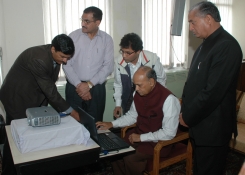 Himachal Pradesh Vidhan Sabha is housed in the Historical Council Chamber Building, which was built by the Britishers for the Central Legislative Assembly. Lord Reading, the then Viceroy of India inaugurated it, on August 27, 1925. Legendary Vithalbhai Patel was the first elected President (or Speaker) of the Central Legislative Assembly. On January 25, 1971, when HP made its debut as the 18th State of the Union of India, Council Chamber was chosen to house the HP Vidhan Sabha.
MUKESH K RALLI, SANDEEP KUMAR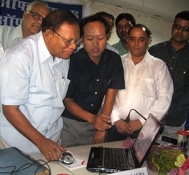 Renewing its effort towards utilizing ICT for the benefit of citizens, the government of Jharkhand had earned admiration from all sections of the society, for its determination to bring efficiency, transparency & accountability in day to day governance. The launch of various e-services in association with NIC and at the same time utilizing the expertise of NICSI to strengthen ICT infrastructure in various departments has hastened the launch of these services without cost overrun and adhering to timelines in overall project execution.
SAHID AHMED, PRASHANT BELWARIAR
With a glorious historical background, Pali traces its origin to Mahabharata when as a part of ancient Arbuda province, it was known as Balla-Desh. Memoirs of legendary Chinese traveler Huen-t-Sang, mentions it to be a part of Gurjar Desh in 667AD. Before the formation of Rajasthan, Pali was the part of erstwhile Marwar state. The Great Aravali hills link it with Ajmer, Rajsamand, Udaipur and Sirohi. Western Rajasthan's famous river Luni and its tributaries Jawai, Mithadi, Sukadi, Bandi and Guhiabala flows through Pali district.
ANIL PUROHIT, KAPIL UJWAL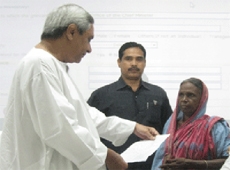 Government of Odisha has taken up on priority basis the e-Governance initiative to bring transparency in Public Administration and Grievance Redressal. Thus the State Government and National Informatics Centre (NIC) have jointly committed to implement e-Abhijoga Grievance Redressal Portal in the Grievance Cell of Hon'ble CM.
S. K. PANDA, DR. R. N. BEHERA
Search Online News