News matching with tag "Data Centre"
Showing 1 to 5 of total 56 items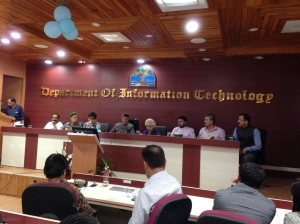 Shri Virbhadra Singh, Honourable Chief Minister Himachal Pradesh, inaugurated State Data Centre (SDC) on 4th June, 2016. The cost of construction of SDC is Rs.58 Crore and it is a green centre by minimising the consumption of power. The Cloud Technology has been implemented in the SDC which helps in consolidating physical servers installed in SDC and make them a logical unit as if it is a single unit. The CM also inaugurated the new Directorate of Information Technology, Himachal Pradesh in the
...
Sandeep Sood, Himachal Pradesh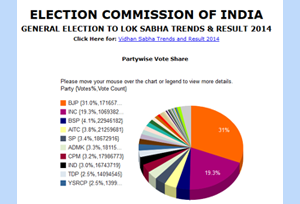 Since Independence, free and fair elections to the largest democracy of the world – INDIA, are being held at regular intervals as per the principles of the Constitution, Electoral Laws and System. Section 14 of the Representation of the People Act, 1951 provides for conduct of the elections to constitute a new Lok Sabha before the expiry of current term. After taking into account the Constitutional and legal provisions, the Election Commission of India made comprehensive preparations
...
Chander Shekhar, NIC-HQ
National Data Centre, Pune A Tier-III National Data Centre (NDC) is operational from 16th March 2010 at NIC, Pune. The Data Centre is spread across an area of around 10,000 Sq.ft in the first floor of NIC building. The Data Centre accommodates 137 server racks, 6 NW racks and a SAN set up of 50 TB that can be scalable upto 150 TB. It has multiple power supply and cooling distribution path as per the standards defined in TIA-942 specifications. Currently
...
Punam Gupta, Maharashtra
This software captures various health conditions of children in the target age group. In cases where diseases are detected, or if medical intervention is required, support is provided free of cost and the parents of the affected children are informed through SMS automatically.
DR. Y.S. MURTY, SRINIVASA SUBBA RAO AKELLA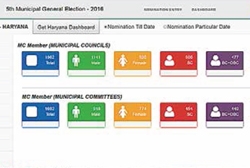 e-Dashboard is a web based online application which was launched by Haryana during the 5th general election for Municipalities of ULBs. Developed and successfully implemented by NIC Haryana, this application enhances transparency in the entire election process and has evolved to be used as an integral and generic application that can be used for similar timebound events providing vital data.
M.P. Kulshreshtha, Surjeet Singh
Search Online News