News matching with tag "Map"
Showing 1 to 4 of total 4 items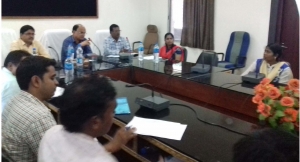 Training programme on Bhunaksha software on map correction was held in the DRDA Conference hall, Jharsuguda, Odisha on 09/08/2017 for all the 5 Tahasil officials and 32 RI officials of Jharsuguda District. The training programme was organized by NIC, District, Unit, Jharsuguda. The main objective of the training programme was to train the participants particularly RI officials on how to make digital correction of maps using Bhunaksha software. The Addl. Tahasildars, R.I.s, ARIs, Amins, Record
...
A. K. Hota, Odisha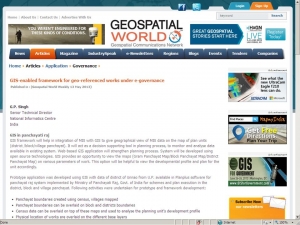 A paper titled 'GIS-enabled framework for geo-referenced works under e-governance' contributed by Shri G.P. Singh, Senior Technical Director, Director, National Informatics Centre, U.P. State Unit, Lucknow has been published in May 2013 issue of Geospatial World Weekly. The paper details the GIS framework that can help in integration of MIS with GIS to give geographical view of MIS data on the map of plan units (district /block/village panchayat). The study presented in the paper
...
Anshu Rohatgi, Uttar Pradesh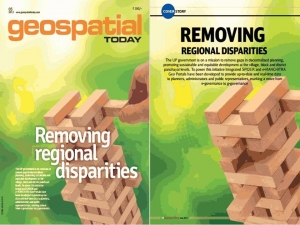 'Removing Regional Disparities' – an article contributed by Dr L.R Yadav, Senior Technical Director and Shri R.S Singh Principal System Analyst, NIC, Lucknow was published as the cover story in one of the leading magazines of GIS in India - 'Geospatial Today'. The magazine is mainly focused on publishing innovations in geospatial sector and always highlights projects that have remarkably changed the working methodology using GIS tools and impacted the citizens in
...
Anshu Rohatgi, Uttar Pradesh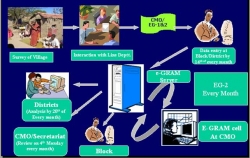 Information plays a very crucial role in overall development of the society, and easily accessible information results in a healthy and dynamic democracy. The growing innovations in the use of Information and Communication Technologies have opened up new era of information dissemination. This becomes all the more challenging, but possible, if it is targeted towards satisfying the information needs of rural communities.
Indu Gupta, Chandan Sen
Search Online News