News matching with tag "Taxation"
Showing 1 to 5 of total 8 items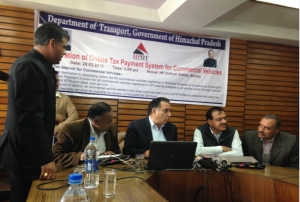 Sh. G.S. Bali, Honourable Transport Minister of Himachal Pradesh inaugurated the Online Tax Payment System of commercial vehicles through the Department of Transport website at http://himachal.nic.in/transport on 26th March 2015. Sh. Ajay Mittal, Additional Chief Secretary Transport, Dr. R.N. Batta, Commissioner Transport, HP Government, Sh. Ajay Singh Chahal, SIO HP, Sh. Lalit Kapoor, TD, Sh. Prithvi Raj Negi, Programmer NIC were present during the occasion. Addressing the media persons,
...
Sandeep Sood, Himachal Pradesh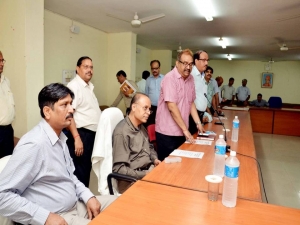 Dr. Ajay Kumar, IAS, Joint Sect, DeitY and DG, NIC visited Commercial Tax Office, Chetganj, Varanasi, Uttar Pradesh along with Dr. Saurabh Gupta, SIO(UP), Mr. Abhay Chaudhary, DIO, NIC, Varanasi and other senior officers of NIC, UP on 5th Sept 2014. Mr. K. P. Singh, Additional Commissioner, Gd-1, Varanasi, Zone-1 and Mr. V. B. Singh, Additional Commissioner, Gd-1, Varanasi, Zone-2 welcomed Dr. Ajay Kumar, DG(NIC) along with his team A Presentation of Vanijykar
...
Anshu Rohatgi, Uttar Pradesh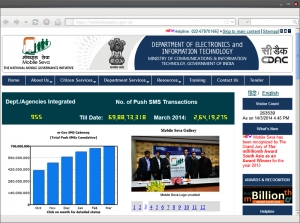 Mobile Seva is an innovative initiative which aims at mainstreaming the mobile governance or m-Governance in the country. It provides an integrated platform to various government department and agencies in India for easy delivery of services to the citizens and businesses using mobile devices. It aims to widen the reach of and access to various public services to the stakeholders by harnessing the innovative potential of mobile applications in dispensing public services. Mobile Seva deploys
...
Lokesh Joshi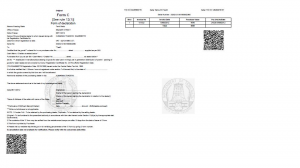 Objectives The system facilitates the authorized dealers to file online application and generation of C and F form by logging into the Web Site of Department of Commercial Taxes, Tamil Nadu. C and F Forms are generated based on the Monthly Returns filed with Annexures by the Dealers. For this purpose, a separate Annexure I-A has been introduced in e-Return with necessary amendment in the Act. Dealer should file Monthly Returns with Annexure I-A which consists of transactions Inter-State
...
R.Gayatri, Tamil Nadu
Heralding a major step towards the green initiative, Government of Goa launched eChallan Payment Gateway in February 2015 with a vision to remove the inherent deficiencies of the existing manual system and keep pace with the changing time in the Finance Department using ICT. The results have been ck and encouraging; we already see limited paper challans and the electronic scrolls have replaced tquihe bulky bank scrolls.
ARCHANA P. NAGVEKAR, R. THANGARAJ
Search Online News