News matching with tag "Education"
Showing 36 to 37 of total 37 items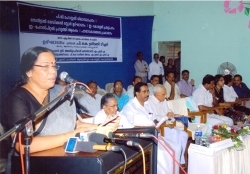 In terms of public governance, India has been a laggard in the utilisation of ICT. There are several reasons for this. One is the monopolistic nature of public governance. It is the customer, in this case the "aam aadmi", who has to like or lump whatever is offered by the public institution. He has no alternative.A second important reason for the slow start off the block, particularly of e-Governance, is that it enables transparency and cuts down avenues of corruption.
BASHEER AHMED P.K, ASHA VARMA
In order to promote the excellence of Medical education in the country and to bring in transparency, Ministry of Health & Family Welfare, Govt. of India, had evolved a scheme for systematizing the prospective intake of students for both undergraduate and postgraduate medical courses in 1993, after due approval of Honorable Supreme Court of India.
N. Ananthakrishnan
Search Online News