News matching with tag "e-Tender"
Showing 26 to 27 of total 27 items
An Exclusive Interview with Sh. Pradipta Kumar Mohapatra, IAS, IT Secretary, Govt. of Orissa on successful completion of one year of Implementation of NIC-GeP in Orissa
Sh. Pradipta Kumar Mohapatra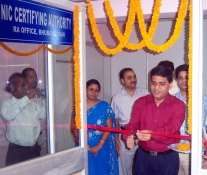 Orissa has been the leading state in India to implement NIC-GeP -electronic procurement system by leveraging the Information Technology tools & the best practices. The success story in government sector has inspired the Corporations / Government undertakings like IDCO, IPICOL, Gridco, and OMC to join this e- Procurement movement.
SK Panda, A.K Hota
Search Online News