News matching with tag "e-Tender"
Showing 26 to 28 of total 28 items
Procurement delays, unfair bidding practices, opaqueness in government processes, etc. have become things of the past with the deployment of Government e-Procurement System of NIC (GePNIC) in Manipur. The system provides transparency in the tendering process, reduces time for procurement, offers equal opportunity to all bidders, and encourages maximum participation leading to greater competition.The Manipur State Rural Roads Development Agency (MSRRDA), which procured goods/services through manual tendering process for construction and maintenance of rural roads under Pradhan Mantri Gram Sadak Yojana (PMGSY), adopted the new system developed at NIC Chennai.
M.BUDDHIMALA MOIRANGTHEM
An Exclusive Interview with Sh. Pradipta Kumar Mohapatra, IAS, IT Secretary, Govt. of Orissa on successful completion of one year of Implementation of NIC-GeP in Orissa
Sh. Pradipta Kumar Mohapatra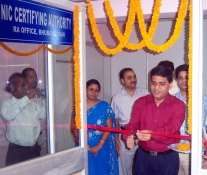 Orissa has been the leading state in India to implement NIC-GeP -electronic procurement system by leveraging the Information Technology tools & the best practices. The success story in government sector has inspired the Corporations / Government undertakings like IDCO, IPICOL, Gridco, and OMC to join this e- Procurement movement.
SK Panda, A.K Hota
Search Online News