News matching with tag "Health"
Showing 26 to 27 of total 27 items
NIC Rajasthan has developed and implemented the Pregnancy, Child Tracking & Health Services Management System (PCTS) for Medical, Health & Family Welfare Department, Govt. of Rajasthan, for improving its services right up to the grass root level (Health Sub centre). It is online software used as Planning & Management tool for improving health care services within Rajasthan.
INDU GUPTA, CHANDAN SEN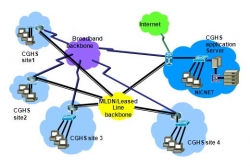 Central Government Health Scheme provides comprehensive health care to the families of Central Govt. Employees , Pensioners , MPs & Ex. MPs, Judges of Supreme Court of India and High Court of Delhi , etc., in 25 Cities including Delhi/NCR through 248 Allopathy Wellness Centres and polyclinics , AYUSH dispensaries , units and Laboratories. CGHS provides OPD consultation (including Specialist), provision of medicines, hospitalisation at Govt. and empanelled private hospitals and laboratories. There is also a provision for reimbursement. CGHS caters to about 32.5 Lakh beneficiaries all over India.
Vishwajeet Ringe, Sanjay Kr Gupta, Pawan Kr. Yadav
Search Online News