News matching with tag "Citizen Centric"
Showing 266 to 266 of total 266 items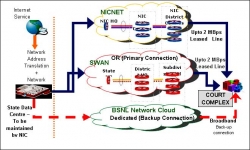 ICT enablement of judiciary is being pursued vigorously across the world. In India, ICT enablement of higher judiciary started in early nineties, covering the Supreme Court and all the 21 High Courts. Today, we have reached a stage where deployment of ICT in Supreme Court and the High Courts has reached a significant level of maturity. However, the lower judiciary, district and taluka courts across the country are largely untouched by the ICT revolution.
CLM Reddy
Search Online News