News matching with tag "Cyber Governance"
Showing 206 to 210 of total 219 items
Judgments passed in the High Court of Karnataka are a rich source of information for many stakeholders. There was a strong need for making this treasure accessible freely and effortlessly. This is the first initiative in India to use open source tools for handling electronic judgments.
Veena P Oak, Vaijayanti Vaidya, Suresh Meti
National Informatics Centre (NIC), Manipur State Centre was assigned to develop a computerized application for management of govt. employees, which would help state administration overcome the difficulties stated above. NIC Manipur designed & developed CPIS (Computerisation of Personnel Information System) to meet the challenge.
M Budhimala
Madhya Pradesh, the second largest State of India having 50 districts & 313 Blocks, is home to a rich cultural heritage and has practically everything; innumerable monuments, large plateau, spectacular mountain ranges, meandering rivers and miles and miles of dense forests offering a unique and exciting panorama of wildlife in sylvan surroundings. ICT has a vital & challenging role to play in streamlining the Governance in the State. The State is fast emerging as a major destination for the IT industry with lot of activity on e-Governance in recent years.
M. Vinayak Rao, Sanjay Hardikar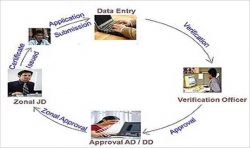 Kerala is bordered by a range of mountains viz. the Western Ghats on the eastern side and the Arabian Sea on the western side. The coastal line of the Arabian Sea sprawling on the western part of the state is 590 kms in length. The population of fisher folk in Kerala is estimated at about 10.85 lakhs. In order to facilitate optimum utilization of the available fisheries resources in the country and also to meet the objectives of Inland & Marine fisheries and aquaculture development programmes, Fisheries Information System Network (FISHNET) was developed.
M Kasthuri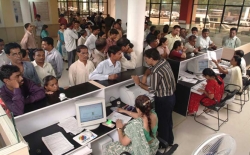 Gujarat, the westernmost state of country is one of the oldest business points in the world map. It is an abode to some of the largest businesses in the India. A bulk of Gujarat economy is generated from its agricultural and natural resources which includes cotton, sugar, peanuts, groundnuts, various milk products and petrol. The state has produced some of the finest management individuals from IIM, Ahmadabad & designers from NID. Today, Gujarat is amongst the most developed states in the country. It has shown robust growth on almost all parameters of infrastructural developments, be it transport, communication, power or Information Technology.
Rajnish Mahajan, Amit Shah
Search Online News