News matching with tag "Land Records"
Showing 16 to 20 of total 30 items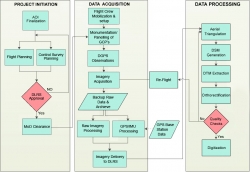 The Bihar state - spread over approx. 94163 sq. Km area, has an administrative setup comprising of 9 divisions, 38 districts, 101 subdivisions, 534 circles and 45,700 mauza(s) i.e. revenue villages. The very first survey of land i.e. Cadastral Survey (CS) of the state was conducted almost a century ago. These hundred years old records have now become fragile. Their day to day handling is critical in terms of loss of information and destruction of paper based maps. Fragmentation of land parcels and their subsequent maintenance regarding updation of records were not timely accomplished. This has posed a great challenge to the government in implementing development schemes, disposal of litigations and land acquisitions for infrastructure projects.
SANJAY KUMAR, MD. JAWED MANZAR
Bhagalpur, situated on the southern banks of the holy River Ganga, is famous for producing Tassar silk and sarees and hence also known as the Silk city of Bihar. The important places to visit are the ancient Buddhist University at Vikramshila, Jain Temple at Nathnagar, Sahjangi and the Ajagaibinatha temple at Sultanganj. The district celebrates the Shravani Mela during the period of July-August every year when Sultanganj is flooded with pilgrims from India, Nepal, Bhutan and other countries of the world to collect the holy water of the Uttarwahini Ganga and pour it on the Shivlings at Basukinath and Baidyanath Dham temple situated at Deoghar district, Jharkhand.
KRISHNA KUMAR JHA, KESHAW KUMAR
Bhiwani city, named after a Rajput King wife Bhani, is also mentioned in Ain-e- Akbari. Bhiwani has been a prominent center of commerce since the time of the Mughals. District Bhiwani came into existence on 22nd December 1972. The district is spread over an area of 5099 Sq. Kms. and comprises of 5 Sub Divisions, 7 Tehsils, 2 Sub Tehsils and 442 villages. The Bhiwani city has been a conventional school of boxing and produced Olympic level champions making it earn the name Mini Cuba.
PANKAJ BAJAJ, AMIT LAMBA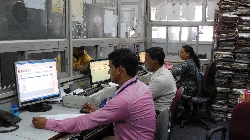 Even in the 21st century India, social status is very much defined by the piece of land one owns. Therefore, it is the obligation on the governments to have an efficient as well as an analytical mechanism to ascertain the ownership, type, and nature as well as cultivation pattern of the land. Manual records of land were never accurate and had been the reason of much discordance in the society. To tackle such situations computerization of the land records is the only answer.
G.H. SUBHASH, M. B. CHENNABASAPPA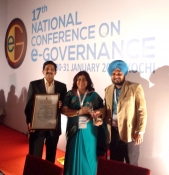 Use of technology in registration of land records
G.S.BANSAL, G.S.SAINI
Search Online News