News matching with tag "ICT in States"
Showing 16 to 20 of total 161 items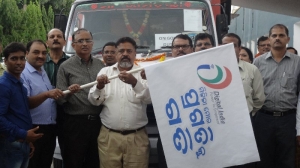 Under Digital India program, several products / services have been rolled out in the last two years to make governance more citizen-centric and transparent in the service delivery. To convey the message of this transformation and create awareness about various services / products, an outreach campaign has been started by Ministry of Communications & IT, GOI, across the country to reach out to citizens at district, sub-district and village level. At Odisha, Sri S. K. Panda, DDG & SIO,
...
A. K. Hota, Odisha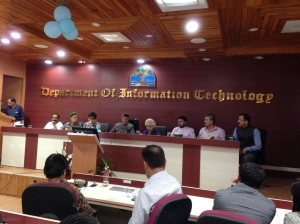 Shri Virbhadra Singh, Honourable Chief Minister Himachal Pradesh, inaugurated State Data Centre (SDC) on 4th June, 2016. The cost of construction of SDC is Rs.58 Crore and it is a green centre by minimising the consumption of power. The Cloud Technology has been implemented in the SDC which helps in consolidating physical servers installed in SDC and make them a logical unit as if it is a single unit. The CM also inaugurated the new Directorate of Information Technology, Himachal Pradesh in the
...
Sandeep Sood, Himachal Pradesh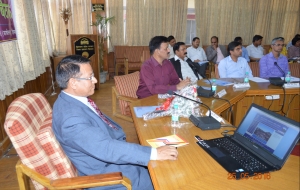 The website of the Town Official Language Implementation Committee, Shimla was launched on 25th May 2016 by Sh. H.C. Negi, Principal Income Tax Commissioner, Himachal Pradesh and Vice President of the TOLIC, Shimla (NARAKAS -Nagar Rajbhasha Karyanvyan Samiti, Shimla). Speaking on the occasion, Sh. H.C. Negi informed the member offices the website will help the member offices to constantly remain in touch with each other and with the activities being carried out by the TOLIC Shimla. He expressed
...
Ajay Singh Chahal, Himachal Pradesh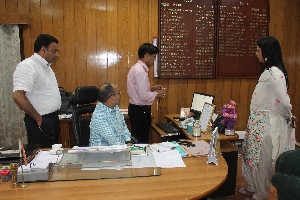 The Deputy Commissioner, Kullu, Sh. Hans Raj Chauhan, IAS formally launched the online tourism permits issuance system with payment gateway facility on 17th May 2016 in Kullu. He informed that at present the vehicles are permitted upto Marhi but these vehicles would soon be allowed to go up to the Rohtang Pass after putting in place necessary arrangements as per the directions of the National Green Tribunal (NGT). While the BRO had restored the road at 13,050-foot-high Rohtang Pass on
...
Ajay Singh Chahal, Himachal Pradesh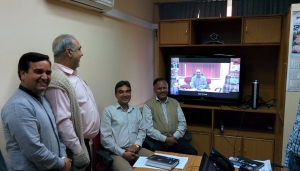 Sh. Ajay Mittal, IAS, the Secretary (Information & Broadcasting) Government of India visited NIC Himachal Pradesh State Centre at Shimla on 7th May 2016 and interacted with the NIC officers. The District NIC officials also joined the meeting over Video Conference. Sh. Ajay Mittal reviewed the projects done by NIC Himachal Pradesh, especially in the Transport sector as he was Additional Chief Secretary (Transport) to the Government of Himachal Pradesh before his current posting. He was informed
...
Ajay Singh Chahal, Himachal Pradesh
Search Online News