News matching with tag "Health"
Showing 16 to 20 of total 29 items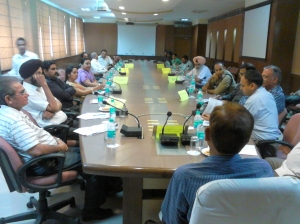 MedLEaPR (Medico Legal and Postmortem Reporting) system has been developed by NIC Haryana and implemented in Haryana, Punjab and Chandigarh. On 18th March, Hon'ble Punjab and Haryana, High Court, who is monitoring the rollout progress of this system, has approved the new project "Integration of Forensic Science Laboratory" with existing MedLEaPR system. For this, High Court constitutes an expert committee comprised of representatives of all laboratories of Haryana,
...
Poonam Gupta, Haryana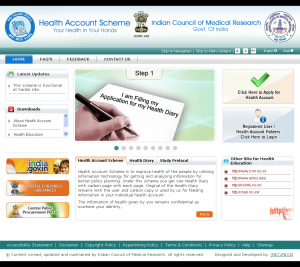 Health Account Scheme is meant to improve health of the people by utilizing information technology for getting and analyzing information for better policy planning. Under this scheme you get one Health Diary with carbon page with each page. Original of the Health Diary remains with the user and carbon copy is used by us for feeding information in your individual health account. The website is full of relevant and updated information pertaining to Health Scheme and Health Education Scheme.
...
Lokesh, Scientist-D, , Delhi(NCT)
http://ahrccodisha.ori.nic.in Acharya Harihar Regional Cancer Centre (AHRCC), Cuttack is one of the 29 Regional Cancer Centres of the country which obtained the status in 1983 with a view to be an integrated complex providing Research, Investigation, Early Detection, Public Awareness and Treatment of cancer cases. It caters to the patients of whole state of Orissa and its neighbouring states. In a major boost to capacity addition, the Acharya Harihar Regional Cancer
...
A. K. Hota, Odisha
The Mid Day Meal Scheme is one of the most well-known schemes initiated by the Government of India. NIC, Himachal Pradesh has taken the initiative to push the effciency of the scheme to the next level using ICT by creating the MDM-ARMS software and a related mobile based App to improve the management of the scheme at the State as well as the District level.
AJAY SINGH CHAHAL, SANJAY KUMAR
With the aim to provide Right Quantity of Right Product on Right Place on Right Time in Right Condition at Right Cost for Right People and also to streamline the distribution of drugs to institutions and ensure availability of drugs at all times, a new, innovative system called online Drug Inventory and Supply Chain Management System (SCMIS) has been introduced in the state of Haryana.
GHAN SHYAM BANSAL, RAHUL JAIN
Search Online News