News matching with tag "ICT in Districts"
Showing 16 to 20 of total 104 items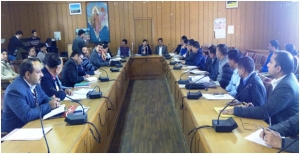 A half day eHimBhoomi awareness workshop was held at Solan on 15th November 2016 for the Revenue Officers of the District Solan. Sh. Rakesh Kanwar, the Deputy Commissioner, Solan had desired to hold a half day demonstration of the Integrated eHimBhoomi features, software, mobile apps for the Revenue Officers of the District Solan during their monthly meeting. Sh. Ajay Singh Chahal, SIO, Vimal Kumar Sharma, Scientist-D, Sh. Ashish Sharma, Scientist-B and Sh. Parveen Kumar, Scientist-B visited
...
Ajay Singh Chahal, Himachal Pradesh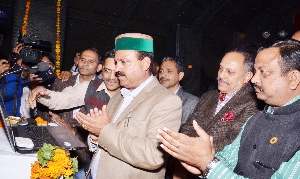 The official website of the District Rural Development Agency, Hamirpur, Himachal Pradesh has been launched by Sh. I D Lakhanpal, Honourable Chief Parliamentary Secretary (Rural Development), Government of Himachal Pradesh on 9th November 2016 in the Hamir Utasv, a State level fair, at District Headquarters. Sh. Madan Chauhan, IAS, Deputy Commissioner Hamirpur briefed the Chief guest and the audience about the features of the website and its content, which will help the DRDA as well as keep the
...
Ajay Singh Chahal, Himachal Pradesh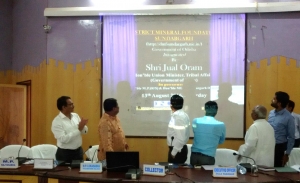 Online Project Monitoring of District Mineral Foundation, Sundargarh (www.dmfsundargarh.nic.in) was launched today by Sri Jual Oram, Hon'ble Union Cabinet Minister of Tribal Affairs, Government of India at Vikash Bhawan, Sundargarh. While addressing Sri Oram stressed on online system and mobile apps and expressed this project monitoring system will help Administration to monitor and implement projects successfully. The portal was developed by
...
A. K. Hota, Odisha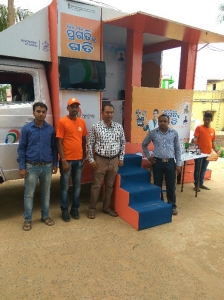 The Digital India Outreach Campaign has been successfully launched at Gopinathpur Village under Gopinathpur Gram Panchayat, Puri Sadar Block, Puri District by Sri Biswanath Panda, DIO, NIC, Puri in the presence of Citizens of Gopinathpur GP. He informed that Government of India has started Digital India Outreach Campaign, in which citizen would be made aware about the programs as well as welfare schemes/policies started by the government under its Digital India Programme. M/S
...
A. K. Hota, Odisha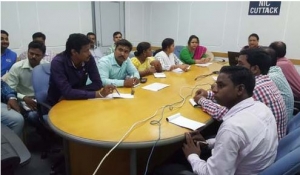 District level Training Programme on MIS of Digitisation of Land Records Modernisation Programme has been conducted for all the 15 tahsils of Cuttack district, Odisha, on 23rd May 2016 in NIC-District Centre, Cuttack. There were 16 participants from different tahsils of Cuttack district. Sri Sitangsu Sekhar Das, Superintendent of Land Records, Collectorate, Cuttack addressing the participants highlighted various aspects and functionalities of the national portal of "Digital
...
A. K. Hota, Odisha
Search Online News