News matching with tag "ICT in Districts"
Showing 16 to 20 of total 92 items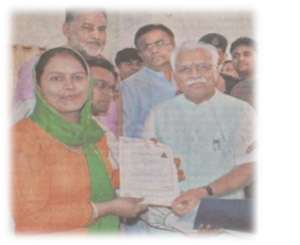 Hon'ble Chief Minister Haryana, Sh. Manohar Lal inaugurated the first village secretariat of state at Haibatpur village in Jind district on Sunday 12/04/2015 and announced to open a village secretariat in each and every village of the state and said that the move will help in reducing the gap between the public and the government. The Chief Minister has also inaugurated a common service centre (CSC) in this village secretariat and launched e-district services of
...
Neeraj, Haryana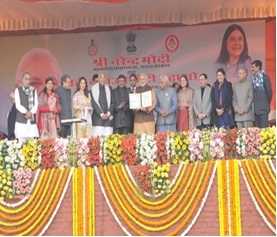 During the visit of Hon'ble Prime Minister Sh. Narendra Modi at Panipat, Haryana on 22-01-2015 for launch of 'Beti Bachao, Beti Padhao' programme, NIC Panipat Haryana rendered extensive ICT Services and Support. Control Room and Media Centre were equipped with latest hardware and networking infrastructure for PMO officers and SPGs. Apart from this, more 4500 I-cards were generated for general/VIP/VVIP persons at NIC District Centre Panipat. For extensive public awareness of this
...
Neeraj, Haryana
Jansahayak is a a workflow based effective monitoring mechanism for effective delivery of services to the citizen through electronics mode. This service helps in the standardization of workflow processes, forms and fee structure, and delivery of 36 identified services to the citizens in a time bound and hassle free manner. Facilities provided to Citizens: 1. Information, Education & Communication, including Work Flow Process in Hindi/ English. 2. Online availability of soft copy
...
Poonam Gupta, Haryana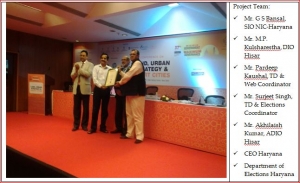 A unique web portal having e-Dashboards for monitoring polling process on pre-polling day, polling day and on counting day from across the state and dissemination of key information instantaneously on Internet was developed & implemented in close coordination with CEO Haryana. NIC's SMS gateways and Internet was used for easy and quick updation of data on e-Dashboards. Additionally, a centralized web enabled Standard software for capturing employees data directly from
...
Poonam Gupta, Haryana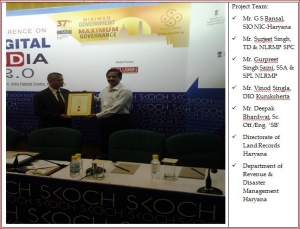 Deed registration work is automated using the Haryana Registration Information System (HARIS) and Land Records management is being done using the Haryana Land Records Information System (HALRIS). To enhance the transparency in the deed registration work a new system of giving appointments for deed registration has been introduced w.e.f. 23rd May 2013 with the help of NIC-Haryana. it is seamlessly integrated with the HARIS system being used for the deed registration. The objectives
...
Poonam Gupta, Haryana
Search Online News