News matching with tag "Technology"
Showing 16 to 20 of total 135 items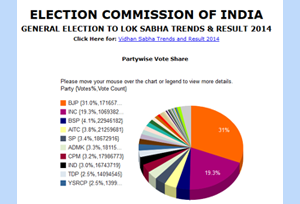 Since Independence, free and fair elections to the largest democracy of the world – INDIA, are being held at regular intervals as per the principles of the Constitution, Electoral Laws and System. Section 14 of the Representation of the People Act, 1951 provides for conduct of the elections to constitute a new Lok Sabha before the expiry of current term. After taking into account the Constitutional and legal provisions, the Election Commission of India made comprehensive preparations
...
Chander Shekhar, NIC-HQ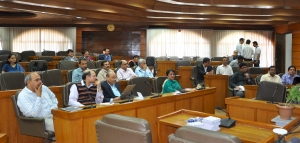 A two-day workshop on Smart Performance Appraisal Report Recording Online Window (SPARROW) was held for the IAS officers of Himachal Pradesh at Shimla on 29th and 30th of April 2014. The workshop was organised by the Department of Personnel, Government of Himachal Pradesh. The eOffice Division NIC New Delhi provided the faculty for the workshop. Sh. SKBS Negi IAS, Principal Secretary (Personnel) welcomed the participants and informed that from the current assessment year of 2013-14, it is
...
Sandeep Sood, Himachal Pradesh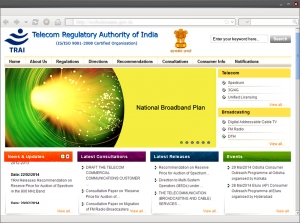 The Telecom Regulatory Authority of India (TRAI) was established by an Act of Parliament, called the Telecom Regulatory Authority of India Act, 1997, to regulate telecom services, including fixation/revision of tariffs for telecom services which were earlier vested in the Central Government. The mission of the authority is to create and nurture conditions for growth of telecommunications in the country by providing a fair and transparent policy environment which promotes a level playing
...
Lokesh Joshi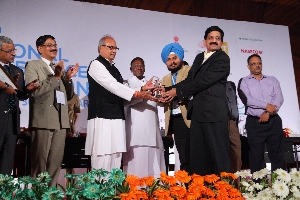 Haryana's e-Governance project entitled, "Dynamic Integration of Property Registration, Land Records and Cadastral Maps" has received National Silver Award on e-Governance 2013-14 under the category "Incremental Innovation in Existing Project". The award has been presented jointly by Sh. Nikhil Kumar, Hon'ble Governor of Kerala and Sh. V. Narayanasamy, Hon'ble Minister of State, Ministry of Personnel, Public Grievances and Pensions and Minister
...
Poonam Gupta, Haryana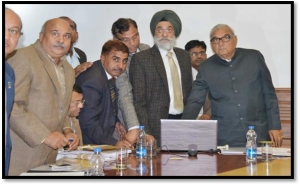 In a major step towards facilitating & strengthening the farmers with the latest weather forecast and agro advisories, Haryana Chief Minister Sh Bhupinder Singh Hooda launched e-Mausam web portal http://emausamhau.gov.in developed by NIC-Hayana state Center, District Unit Hisar in coordination with CCS Haryana Agriculture University, Hisar . Honorable Chief Minister showed keen interest in dissemination of weather forecast and agro advisory through SMS by using NIC SMS gateway. During
...
Poonam Gupta, Haryana
Search Online News