News matching with tag "Transport"
Showing 16 to 20 of total 26 items
The much awaited Smart Card based driving licenses (SCDL) scheme was launched in the state by Chief Minister of Uttar Pradesh Shri Akhilesh Yadav on 9th January 2013 at Lucknow. The project has been implemented in 20 districts of the state including Lucknow, Kanpur, Ghaziabad, Agra, Aligarh etc. in the first phase. The State Transport Minister, Shri Raja Aridaman Singh launched the SCDL in Agra on 15th January 2013. In Ghaziabad, Deputy Chairman GDA (Ghaziabad Development Authority)
...
Anshu Rohatgi, Uttar Pradesh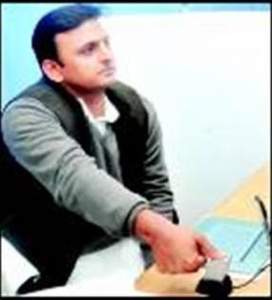 Chief Minister of Uttar Pradesh Shri Akhilesh Yadav launched the SMART card based driving license in the state on 9th January 2013 at the regional transport office Lucknow. Under this scheme, the new DL will come in tamper proof plastic cards embedded with a microprocessor chip. The chip will have important details of the applicants like name, date-of-birth etc.. The 'SARATHI' software developed by National Informatics Centre is being used to digitize the applicant's information
...
Anshu Rohatgi, Uttar Pradesh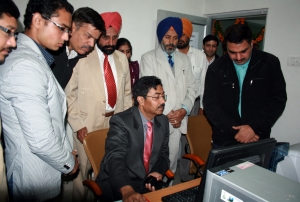 Sh. Anil Kumar, IAS, Secretary, Transport, UT Chandigarh inaugurated various services at the office of Secretary, State Transport Authority, Sector 18 Chandigarh on 8th February 2013. Smart card based printing of Registration certificates of Commercial Vehicles has commenced from the office of STA, which would benefit the applicants. The printing of Registration Certificates of taxis series (CH02, CH02AA) and Radio Taxis series (CH01TR) will be undertaken at this office. Another
...
Vivek Verma, Chandigarh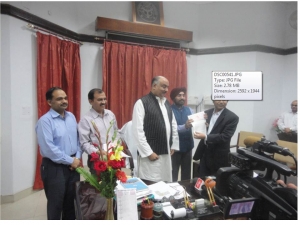 A MoU (Memorandum of Understanding) was signed between State Transport Department, Government of Uttar Pradesh, National Informatics Centre (NIC) and NICSI (National Informatics Centre Services Inc.) on 8th November 2012 for implementation of project 'Sarathi' in the state that entails issuance of electronic chip based Driving Licences to the citizens. The tripartite agreement was signed in the presence of state transport minister Shri Raja Mahendra Aridaman Singh. Shri B.S Bhullar,
...
Anshu Rohatgi, Uttar Pradesh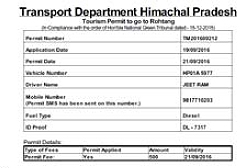 To make it easier for the Rohtang Pass commuters, the payment gateway has been integrated with the system so that all the charges can be paid online and the permit is issued on successful receipt of payment by the Department. This web application is a unique mode of getting permits.
AJAY SINGH CHAHAL, ASHISH SHARMA
Search Online News