News matching with tag "Transport"
Showing 16 to 20 of total 29 items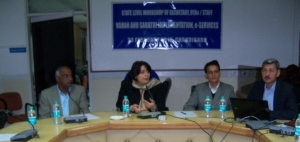 A Workshop cum training Programme was conducted for Secretary, RTAs and staff of Regional Transport Authorities of Haryana on 23rd February. The programme was inaugurated by Smt. Sumita Misra, IAS, Transport Commissioner, Haryana. She addressed the officers and emphasized upon standardization of business processes related to vehicle registration and driving licenses by using VAHAN, SARATHI and other solutions developed by National Informatics Centre under the guidance of Ministry of
...
Poonam Gupta, Haryana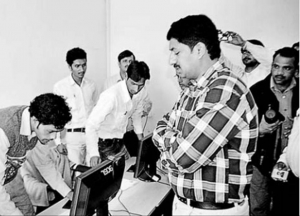 Uttar Pradesh Transport Department has decided to roll out of SARATHI software based Smart Card Driving Licenses across the State by dividing the districts in a phase wise manner starting from January 9, 2013. Etawah being in third phase was inaugurated by District Magistrate, Etawah, Shri P Guruprasad, IAS on 26-Feb-2013. The DM visited the RTO Office to register his thumb impression and photograph to get the SMART Card based License made. He told the people and media present that the new
...
Anshu Rohatgi, Uttar Pradesh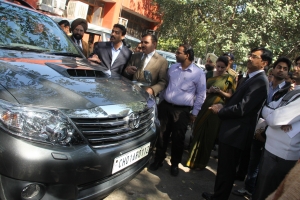 In pursuance to provisions made under section 41(6) of Motor Vehicle Act, 1988 read with Rule 50 of Central Motor Vehicle Rules, 1989 as notified by the Government of India, Ministry of Road Transport and Highways to introduce High Security Registration Plate (HSRP) System in India, Sh. Anil Kumar, IAS, Home Secretary –cum- Transport Secretary Chandigarh Administration inaugurated the affixation work of HSRP on 28th Feb 2013, in the premises of Registering and Licensing Authority,
...
Vivek Verma, Chandigarh
The much awaited Smart Card based driving licenses (SCDL) scheme was launched in the state by Chief Minister of Uttar Pradesh Shri Akhilesh Yadav on 9th January 2013 at Lucknow. The project has been implemented in 20 districts of the state including Lucknow, Kanpur, Ghaziabad, Agra, Aligarh etc. in the first phase. The State Transport Minister, Shri Raja Aridaman Singh launched the SCDL in Agra on 15th January 2013. In Ghaziabad, Deputy Chairman GDA (Ghaziabad Development Authority)
...
Anshu Rohatgi, Uttar Pradesh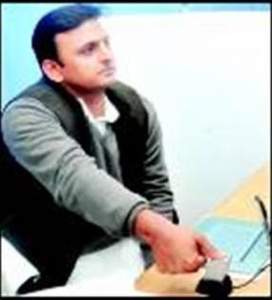 Chief Minister of Uttar Pradesh Shri Akhilesh Yadav launched the SMART card based driving license in the state on 9th January 2013 at the regional transport office Lucknow. Under this scheme, the new DL will come in tamper proof plastic cards embedded with a microprocessor chip. The chip will have important details of the applicants like name, date-of-birth etc.. The 'SARATHI' software developed by National Informatics Centre is being used to digitize the applicant's information
...
Anshu Rohatgi, Uttar Pradesh
Search Online News