News matching with tag "ICT Initiatives"
Showing 16 to 20 of total 131 items
NIC, Ganjam District Unit, Chatrapur has conducted a one day training programme for Revenue Inspectors from different districts of Odisha on "I.C.T. applications in Tahasil administration" at R.I.T.I.(Revenue Inspectors Training Institute), Khallikote in Ganjam district. R.I.T.I., Khallikote is one of the oldest training institutes for Revenue officials. It provides training to two-third districts of Odisha i.e. it covers the districts of Southern and Central
...
A. K. Hota, Odisha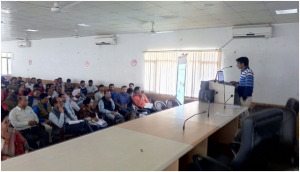 Two capacity building programs were conducted by NIC district Centre Jind on 30.11.2016 from 2 to 4 PM and 4 to 6 PM at DRDA Hall Jind to aware the CSC VLEs, Bank BCAs, Education department, AM (MIS) were present in first batch and employees& Officers of allother departments /offices were present in the second batch to promote cashless society and Digital Payment methods. They were made aware about the vision of Cashless society and know how about various methods of payment like Aadhar Enabled
...
Deepak Sawant, Haryana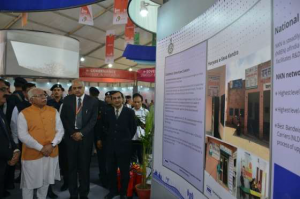 Haryana Pavilion has showcased the IT implementations and Achievements and entire story of using digital technology and metaphors associated with digital world keeping the theme of Digital India. The façade depicts the history, achievements and contributions of the people of Haryana. The entire pavilion has blue waves running on the top connecting every corner of the area and are symbolic of an e-equipped Haryana. CM Window, CM Dashboard, e-Disha e-Seva, Digital Locker, CCTNS
...
Deepak Sawant, Haryana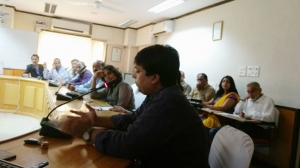 eSamikSha, an online Monitoring and Compliance Mechanism has been developed by Cabinet Secretariat Informatics Division, to fast track the compliance of pending action points, proposal, targets, etc. of Various Ministry/Department/Organization/Agency of Govt. of India and Government of States and UTs. The Portal has been designed in such a way that it will enhance efficiency, bring transparency, reduce the need of protracted correspondence and improve the communication between Government to Government
...
Dr. Shubhag Chand, Delhi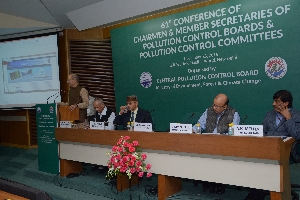 Shri Anil Madhav Dave, Minister of State (Independent Charge) of Environment, Forest and Climate Change (MoEF&CC), launched the CPCB-eSamikSha Portal on 23rd November, 2016 in the 61st Conference of Chairmen & Member Secretaries of Pollution Control Boards and Pollution Control Committees at Indian Habitat Centre, Lohdi Road, New Delhi. Shri Ajay Narayan Jha, Secretary, MoEF&CC, Shri S.P.S Parihar, Chairman, CPCB, Dr A.B Akolkar, Member Secretary, CPCB, Member Secretaries of State
...
Dr. Shubhag Chand, Delhi
Search Online News