News matching with tag "Launch"
Showing 16 to 20 of total 107 items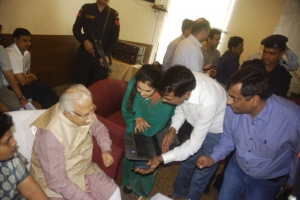 The Overall Goal of the outreach program is "To create awareness about Digital India program and its major initiatives through various Point of Presence (PoP) like DeGS, CSCs, Panchayats etc and increase uptake of citizen centric services" The outreach campaign is a Van based mobile display/exhibition unit with the Audio visuals, IEC material and a team of trained (5-8) personnel which will travel from one location to other in a specified route map covering various
...
Deepak Sawant, Haryana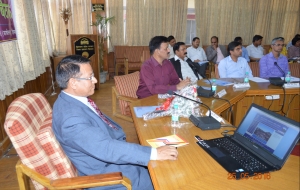 The website of the Town Official Language Implementation Committee, Shimla was launched on 25th May 2016 by Sh. H.C. Negi, Principal Income Tax Commissioner, Himachal Pradesh and Vice President of the TOLIC, Shimla (NARAKAS -Nagar Rajbhasha Karyanvyan Samiti, Shimla). Speaking on the occasion, Sh. H.C. Negi informed the member offices the website will help the member offices to constantly remain in touch with each other and with the activities being carried out by the TOLIC Shimla. He expressed
...
Ajay Singh Chahal, Himachal Pradesh
Shri Virbhadra Singh, Hon'ble Chief Minister Himachal Pradesh, formally launched twenty web based Citizen Centric Services on 22nd April, 2016 under e-District project. This launch has not only digitally empowered people of the state but was also the first step towards integration of various departmental databases and delivery of services under single sign on. The services launched under e-District includes Registration and Renewal of shop and commercial establishment, registration of establishment
...
Sandeep Sood, Himachal Pradesh
The Minister of Micro Small and Medium Enterprises Shri Kalraj Mishra launched 'MSME eSamikSha' an online Monitoring and Compliance mechanism, to fast track the compliance of pending Action-point(s)/Issue(s) with their concerned MSME-Development Institutes, Testing Centers and Autonomous Bodies etc., at a function held at MSME-DI Extension Centre Complex, Outer Circle Connaught Place, New Delhi on 29-Jan-2016. While launching this initiative, Shri Kalraj Mishra said that it is a very
...
Dr. Shubhag Chand, Delhi

With an objective to create an institutional mechanism for fast-tracking stalled investment projects, both in the public and private sectors, Chief Minister Laxmikant Parsekar launched Goa e-Suvidha portal, on Friday, 29th January 2015 an online mechanism to fast track approvals and resolve issues pertaining to infrastructure and other large projects. The mechanism has been developed by the cabinet secretariat Informatics division of National Informatics Centre. Goa is the 19th state
...
Dr. Shubhag Chand, Delhi
Search Online News