News matching with tag "Awards"
Showing 16 to 20 of total 123 items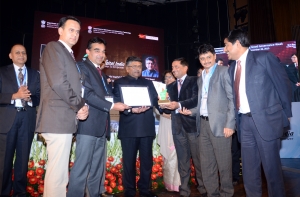 The State of Himachal Pradesh added yet another feather in its e-Governance cap by winning the Award for its contribution during the Digital India Week held in July this year. Himachal Pradesh has been ranked 2ndamong all States and Union Territories of India. The Awards have been presented on the Good Governance Day at New Delhi on December 28, 2015 by the Honourable Union Minister of Communication & Information Technology, Sh. Ravi Shankar Prasad. The Award was received by the ACS (IT),
...
Ajay Singh Chahal, Himachal Pradesh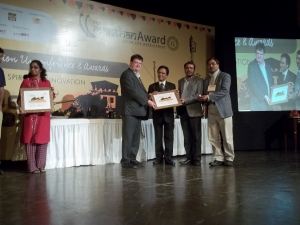 GIS based Decision Support System (DSS) in WAMSI On-line System for Waqf Property Encroachment got recognized by The Grand Jury of Manthan Awards 2015. The GIS based DSS uses satellite imagery to detect encroachment of Waqf properties in order to protect them from vested interests and to ensure that they are used as per the concept of Waqf. The GIS-DSS system implemented since December 2014, involves: a) permanently fixing layouts of the Waqf properties on the basis of GPS coordinates;
...
Naeem Ahmed, NIC-HQ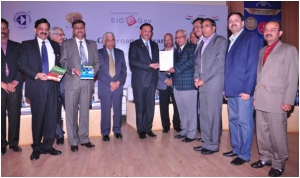 Haryana IFMS, developed by NIC Haryana received CSI-Nihilent e-Governance Award for Excellence in e-Governance at the 50th Golden Jubilee Annual Convention of Computer Society of India at New Delhi on December 3, 2015. The IFMS project, developed in-house and being implemented since April 01, 2013, is the largest project managed by the Finance Department which provides complete automation of front-end as well as back-end processes. The system has been continuously evolving
...
Deepak Sawant, Haryana
Haryana Government has taken steps to bring total transparency in its working and has declared zero tolerance for corruption, and has harnessed Information Technology to improve the service delivery mechanism to its citizens. The state has undertaken a number of key ICT initiatives and successfully implemented various e-Governance projects, under digital Haryana initiatives, some of which has been implemented as First State of the Country/adjudged as unique projects like: 1. CM's
...
Deepak Sawant, Haryana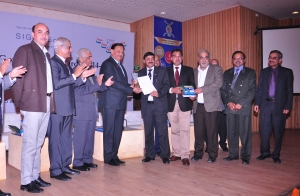 Two NIC Himachal Pradesh projects, HimBhoomi-Integrated Land Records Computerisation and HimKosh-Integrated Finance Management System, have won the CSI Nihilent eGovernance 2015 Awards. These awards were presented by the President of the Computer Society of India, Prof. Bipin V. Mehta during the 50th Golden Jubilee Annual CSI Convention at New Delhi on 3rd December 2015. Sh. D.D. Sharma, IAS and Special Secretary (Finance, Revenue)-cum-Director Treasuries represented the Government of Himachal
...
Ajay Singh Chahal, Himachal Pradesh
Search Online News