News matching with tag "Cyber Governance"
Showing 16 to 20 of total 241 items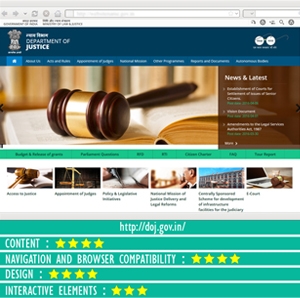 Department of Justice is a part of Ministry of Law & Justice and is one of the oldest Departments of Govt. of India. The functions of the Department of Justice include the appointment, resignation and removal of the Chief Justice of India, Judges of the Supreme Court of India, Chief Justices and Judges of the High Courts and their service matters. The Department implements important schemes for Infrastructure Development of Subordinate Judiciary, Legal Aid to Poor and Access to Justice. The
...
Lokesh Joshi, Principal Systems Analyst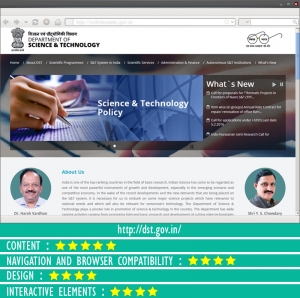 The Department of Science & Technology plays a pivotal role in promotion of science & technology in the country. The department has wide ranging activities from promoting high end basic research and development of cutting edge technologies on one hand to provide service to the technological requirements of the common man through development of appropriate skills and technologies on the other. The newly revamped information rich website of Department of Science comes with content divided
...
Lokesh Joshi, Principal Systems Analyst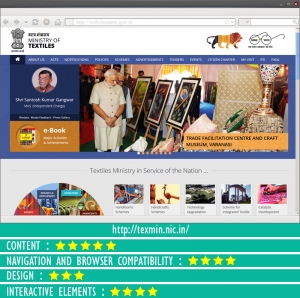 The indigenously designed website of ministry of textiles is endowed with up-to-date content arranged in two broad categories on the Homepage which showcases the different sectors and schemes of the Ministry. The website makes rich use of colors and graphics to highlight the different sections. It also has a large repository of documents that are categorised under various sections and presented prominently on the homepage. The website provides affluent content on significant topics catering to
...
Lokesh Joshi, Principal Systems Analyst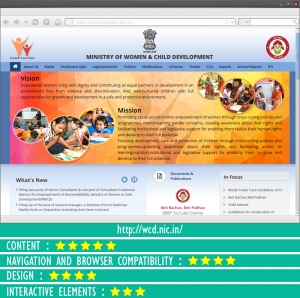 The Department of Women and Child Development, Government of India, came into existence as a separate Ministry with effect from 30th January, 2006; earlier since 1985 it was a Department under the Ministry of Human Resources Development. The Ministry was constituted with the prime intention of addressing gaps in State action for women and children for promoting inter-Ministerial and inter-sectoral convergence to create gender equitable and child-centred legislation, policies and programmes. The
...
Lokesh Joshi, Principal Systems Analyst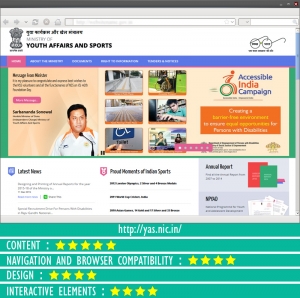 The Ministry of Youth Affairs & Sports was initially set up as the Department of Sports in 1982 at the time of organization of the IX Asian Games in New Delhi. Its name was changed to the Department of Youth affairs & sports during celebration of the International Youth Year, 1985. It became a Ministry on 27th May 2000. Subsequently, the Ministry has been bifurcated in Dept. of Youth Affairs and Dept. of Sports. The conscientiously designed website offers plethora of content. Homepage
...
Lokesh Joshi, Principal Systems Analyst
Search Online News