News matching with tag "Cyber Governance"
Showing 16 to 20 of total 231 items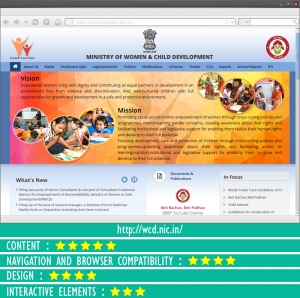 The Department of Women and Child Development, Government of India, came into existence as a separate Ministry with effect from 30th January, 2006; earlier since 1985 it was a Department under the Ministry of Human Resources Development. The Ministry was constituted with the prime intention of addressing gaps in State action for women and children for promoting inter-Ministerial and inter-sectoral convergence to create gender equitable and child-centred legislation, policies and programmes. The
...
Lokesh Joshi, Principal Systems Analyst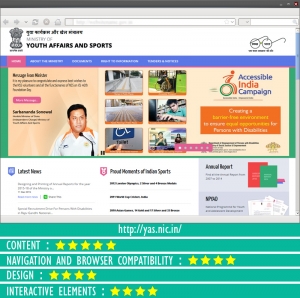 The Ministry of Youth Affairs & Sports was initially set up as the Department of Sports in 1982 at the time of organization of the IX Asian Games in New Delhi. Its name was changed to the Department of Youth affairs & sports during celebration of the International Youth Year, 1985. It became a Ministry on 27th May 2000. Subsequently, the Ministry has been bifurcated in Dept. of Youth Affairs and Dept. of Sports. The conscientiously designed website offers plethora of content. Homepage
...
Lokesh Joshi, Principal Systems Analyst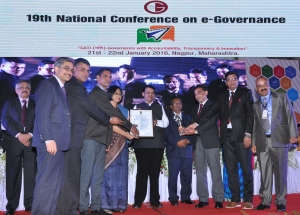 The Integrated Online Hotels Reservation System of HP Tourism Development Corporation, developed by NIC Himachal Pradesh, has been conferred with the Gold Icon National eGovernance Award under Category-X- "Innovative use of Information Communication Technology by State Government PSU/ Cooperatives/ Federations/ Societies" for the for the year 2015-16. The National eGovernance awards have been presented during the 19th National eGovernance Conference held at Nagpur during 21-22 January
...
Ajay Singh Chahal, Himachal Pradesh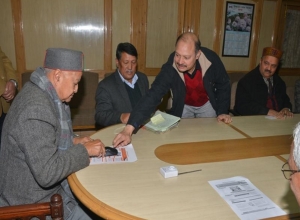 The process for budget preparation for the year 2016-17 in the State of Himachal Pradesh was started on 7th January 2016 by Sh. Virbhadra Singh, Honourable Chief Minister by launching the web-portal for inviting suggestions from the general public. The portal is accessible from the official website of the HP Finance Department at http://himachal.nic.in/finance. Speaking on the occasion, the Chief Minister appreciated the efforts of the Finance Department and hoped that more suggestions would be
...
Ajay Singh Chahal, Himachal Pradesh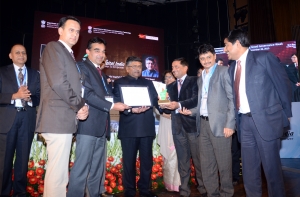 The State of Himachal Pradesh added yet another feather in its e-Governance cap by winning the Award for its contribution during the Digital India Week held in July this year. Himachal Pradesh has been ranked 2ndamong all States and Union Territories of India. The Awards have been presented on the Good Governance Day at New Delhi on December 28, 2015 by the Honourable Union Minister of Communication & Information Technology, Sh. Ravi Shankar Prasad. The Award was received by the ACS (IT),
...
Ajay Singh Chahal, Himachal Pradesh
Search Online News