News matching with tag "Cyber Governance"
Showing 16 to 20 of total 217 items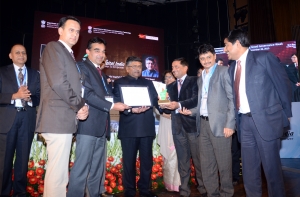 The State of Himachal Pradesh added yet another feather in its e-Governance cap by winning the Award for its contribution during the Digital India Week held in July this year. Himachal Pradesh has been ranked 2ndamong all States and Union Territories of India. The Awards have been presented on the Good Governance Day at New Delhi on December 28, 2015 by the Honourable Union Minister of Communication & Information Technology, Sh. Ravi Shankar Prasad. The Award was received by the ACS (IT),
...
Ajay Singh Chahal, Himachal Pradesh
Prime Minister Narendra Modi and Cabinet Secretariat directly monitoring progress of schemes and projects of all ministries through eSamiksha and PRAGATI projects, the government has scrapped a major scheme through which performance of ministries was monitored since 2011. Government "has not pursued the mechanism of Performance Monitoring and Evaluation System (PMES) for 2014­-15 and thereafter. Under PMES, every ministry made a Result Framework Document (RFD) every year against
...
Dr. Shubhag Chand, Delhi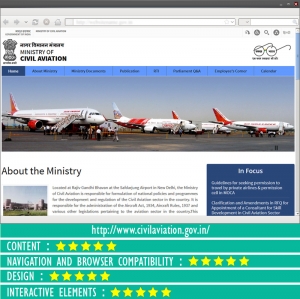 The Ministry of Civil Aviation is responsible for formulation of national policies and programmes for the development and regulation of the Civil Aviation sector in the country. It is responsible for the administration of the Aircraft Act, 1934, Aircraft Rules, 1937 and various other legislations pertaining to the aviation sector in the country. This newly launched revamped website provides user-friendly interface that is crafted to provide easy and quick navigation. The website header contains
...
Lokesh Joshi, Principal Systems Analyst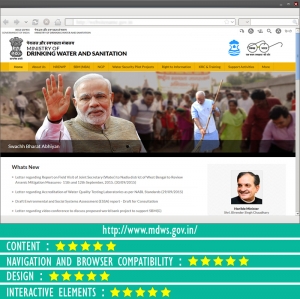 The Ministry of Drinking Water and Sanitation is the nodal department for the overall policy, planning, funding and coordination of programmers of drinking water and sanitation in the country. It ensures all rural households have access to safe and sustainable drinking water and improved sanitation facilities by providing support to state in their endeavor to provide these basic facilities and services. This recently launched revamped website provides comprehensive information on drinking
...
Lokesh Joshi, Principal Systems Analyst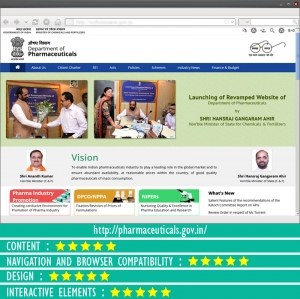 The Department of Pharmaceuticals was created on the 1st of July in the year 2008 in the Ministry of Chemicals & Fertilizers so as to provide greater focus for the growth of the high potential Pharmaceuticals industry. The revamped website comes with a clean interface for quick navigation by the visitors. A user-friendly interface is well crafted to make it quickly accessible to the visitors. The Homepage contains slider banners for dissemination of information pertaining to latest events,
...
Lokesh Joshi, Principal Systems Analyst
Search Online News