News matching with tag "Biometric Authentication"
Showing 16 to 20 of total 28 items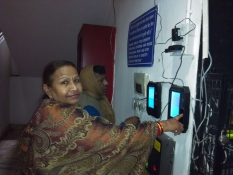 Digital India programme of Government of India seeks to transform India into a digitally empowered society and knowledge economy. As a part and parcel of this programme, DeitY/NIC/ UIDAI has implemented Aadhaar enabled Biometric Attendance System (BAS) in all the Central Government Offices in Delhi. The initiative is now being extended to the offices of all the State Governments.
S. Mahalingam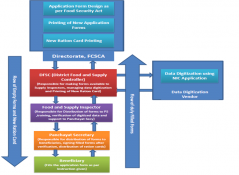 The Public Distribution System (PDS) is the distribution of essential commodities to a large number of people through a network of Fair Price Shops (FPS). The system operates under joint responsibility of Central (procurement, storage, transportation and bulk allocation of food grains to states) and State Governments (distribution to consumers through FPS, identification of BPL families, issuance of ration cards, supervision and monitoring etc.). The Electronic Ration Card Monitoring System (eRCMS), fully integrated with Aadhaar number of all the beneficiaries, is part of the Ministry proposal for implementing the e-PDS throughout the country.
Ajay Singh Chahal, Sanjay Kumar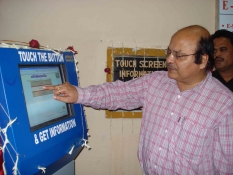 Enriched with glorious cultural heritage, Jagatsinghpur district was formed after bifurcation of erstwhile Cuttack district and is surrounded by Bay of Bengal in the east, Cuttack in the west, Kendrapada in the north and Puri district in the south. Paradip Port is the pride of Jagatsinghpur as well as the state of Odisha which is one of the major ports of India. With a geographical area of 1759 sq km, it is the smallest district in Odisha.
BibHuti Bhusan Rout, Bikash Ranjan Naik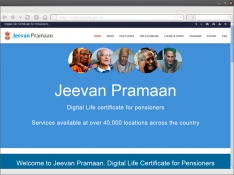 In order to transform the entire ecosystem of delivery of public services through the use of ICT, Government of India has unveiled an ambitious programme called Digital India. Jeevan Pramaan (Aadhar-based Digital Life Certificate for pensioners), recently launched by Prime Minister Shri Narendra Modi, is an important initiative under the Digital India programme that intends to benefit over a crore pensioners in the country. The Prime Minister said that after the push towards self-certification, digital life certificate is another enabling mechanism which would benefit the common man.
Mohan Das Viswam
The Chief Secretary Office (CSO) is the Principal Executive Office of the Government of Haryana. The Chief Secretary Haryana also holds the charge of General Administration, Personnel, Training, Vigilance, and Administrative Reforms Departments. The CSO monitors and coordinates the work pertaining to all departments, boards, and corporations.
GHAN SHYAM BANSAL, YASHPAL
Search Online News