News matching with tag "e-Service"
Showing 16 to 20 of total 155 items
Haryana has become first State/UT Government, to implement Digital Life Certificate (Jeevan Pramaan Patra) for State Government Pensioners, who are drawing their pensions from State Treasuries & Sub Treasuries. There are around 29000 pensioners and 110 Treasuries & sub-Treasuries in Haryana. Hon'ble Prime Minister of India had launched Aadhaar Enabled Jeevan Pramaan Patra (Life Certificate) System on 10th November, 2014, as part of "Digital India"
...
Neeraj, Haryana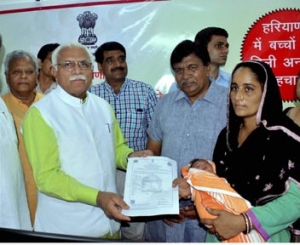 NITI Ayog has taken an initiative at Tigaon Village in district Faridabad of Haryana, where-in the newly born children are enrolled for UIDAI Aadhar at the time of their Birth registration. This is first such pilot in the country , initiated by NITI Ayog. To carry forward this pilot initiative, NIC-Haryana has developed necessary software with linkage to Aadhaar enrolment software and the SRDB (State Resident Data Base) Haryana. The Chief Minister Haryana has rolled out this initiative
...
Neeraj, Haryana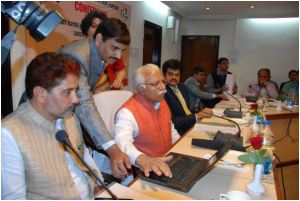 Honb'le Chief Minister, Haryana, Sh. Manohar Lal inaugurated the new integrated website of Urban Local Bodies, Haryana and online citizen services. The inauguration was done on 26.02.2015 at 11:00 AM at Haryana Niwas, Chandigarh during an interactive conference of Mayors, Sr. Deputy Mayors and Deputy Mayors along with the Commissioners of all the 9 Municipal Corporations of the State. Initiated on the directions of Hon'ble Chief Minister, the Project was envisaged as a
...
Neeraj, Haryana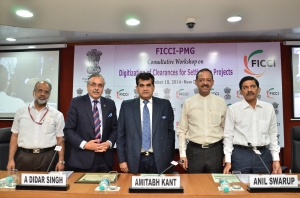 Project Monitoring Group and FICCI has organized a workshop on "Digitisation of Clearances for Setting Up Projects" on Friday 10th October, 2014 at Federation House, Tansen Marg, New Delhi. Secretary in the Department of Industrial Policy and Promotion (DIPP) Mr. Amitabh Kant said the only way for India to move forward at higher growth rates is that states should compete with each other. He said state governments should devise effective mechanism so that an entrepreneur
...
Dr. Shubhag Chand, Delhi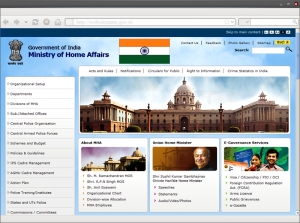 The Ministry of Home Affairs (MHA) is responsible for maintaining internal security of the country. Besides this, MHA has been also entrusted with maintenance of centre-state relations, para-military forces, border management, disaster management etc. The information rich website of MHA has been conscientiously designed with clear identity elements and harmonious mix of colours. A Search button on the top right corner of the homepage ensures quick and easy navigation between the
...
Lokesh Joshi
Search Online News