News matching with tag "e-Service"
Showing 16 to 20 of total 158 items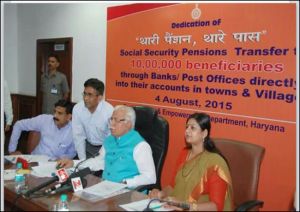 NIC Haryana state unit, has designed and developed an application for Social Justice and Empowerment department for online handling, monitoring and managing pension benefits disbursal to more than 23 lacs beneficiaries under 8 Social Security Pensions schemes namely Old Age Samman Allowance, Widow & destitute pension, Disability pension, Ladli Social Security Schemes, Financial Assistance to Destitute Children, Allowances to Eunuchs, Allowances to Dwarfs and Financial Assistance to Non-School
...
Neeraj, Haryana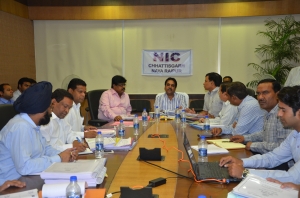 e - AWAS was conceptualized with a view to delivering online G to C services of Chhattisgarh Housing Board with respect to sale of residential and commercial properties. The Estate and Finance modules of the web based software application were rolled out on 21/05/15 by Hon'ble Rajesh Munat, Housing and Environment Minister, Govt. of Chhattisgarh. The software is being implemented in all 15 divisions and 4 zones of the Housing Board since 1st April, 2015. Following are the salient
...
Y.V.Shreenivas Rao, Chattisgarh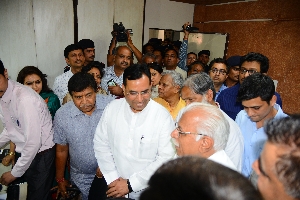 At present, State government receives stamp duty through issuance of stamp papers by Treasury (upto value of 10,000/-) and issuance of stamp duty receipt by various authorized branches of SBI (for value exceeding Rs. 10,000/-). The treasuries are required to maintain huge stock of stamp papers, which are got printed from Nasik. Although at present stamp papers have some security features, however there isn't any full proof mechanism to ensure the genuineness of the stamp
...
Neeraj, Haryana
Haryana has become first State/UT Government, to implement Digital Life Certificate (Jeevan Pramaan Patra) for State Government Pensioners, who are drawing their pensions from State Treasuries & Sub Treasuries. There are around 29000 pensioners and 110 Treasuries & sub-Treasuries in Haryana. Hon'ble Prime Minister of India had launched Aadhaar Enabled Jeevan Pramaan Patra (Life Certificate) System on 10th November, 2014, as part of "Digital India"
...
Neeraj, Haryana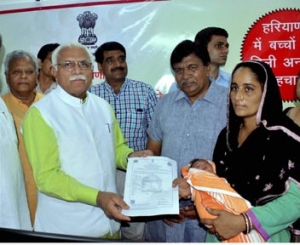 NITI Ayog has taken an initiative at Tigaon Village in district Faridabad of Haryana, where-in the newly born children are enrolled for UIDAI Aadhar at the time of their Birth registration. This is first such pilot in the country , initiated by NITI Ayog. To carry forward this pilot initiative, NIC-Haryana has developed necessary software with linkage to Aadhaar enrolment software and the SRDB (State Resident Data Base) Haryana. The Chief Minister Haryana has rolled out this initiative
...
Neeraj, Haryana
Search Online News