News matching with tag "ICT in States"
Showing 161 to 165 of total 189 items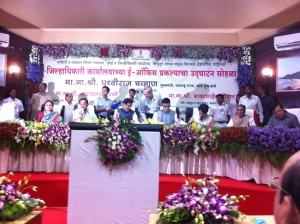 Hon'ble Chief Minister of Maharashtra Shri Prithviraj Chavan inaugurated e-Office in Sindhudurg District Collector office on 24-12-2012 in the presence of Industry Minister Shri Narayan Rane, Revenue Minister Shri Balasaheb Thorat, Chief Secretary, IT Secretary, SIO NIC Maharashtra, District Collector Sindhudurg. District Collectors of remaining 34 districts also attended the inauguration through VC via NICNET. Sindhudurg district is the first district in the country to implement Electronic
...
Moiz Hussain, Maharashtra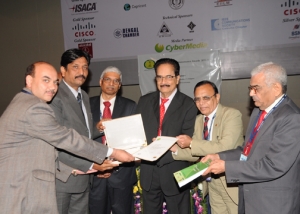 The Manav Sampda initiative, developed and implemented by NIC Himachal Pradesh State Centre as a complete Human Resource Management solution, has won the CSI eNihilent Award of Excellence under the G2E Project category. The Awards were presented in the recently held CSI Annual Convention at Kolkotta on 2nd December 2012. Dr. Saurabh Gupta, State Informatics Officer and Sh. Sanjay Kumar, Principal Systems Analyst received the award in the CSI Annual Meet in Kolkotta. Manav Sampada is
...
Ajay Singh Chahal, Himachal Pradesh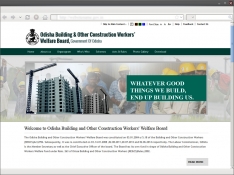 The Odisha Building and Other Construction Workers Welfare Board (OB&OCWW) was constituted to regulate the employment and service condition of building and other construction workers and to provide them safety, health and welfare measures. e-Shramik project aims to facilitate the construction workers to get various benefits, to collect online cess and subsequently provide various welfare measures online.
Dr. R. N. BEHERA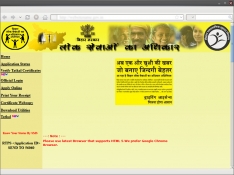 IT has been on the top of the agenda of the State Government. e-Governance in Bihar has helped in increasing transparency and accountability in the government functioning. This is an exclusive Interview with Dr. S. Siddharth, Secretary, Department of IT and Department of Labor, Govt. of Bihar on how Information technology Department, Govt. of Bihar is leveraging technology for upholding the principles of good governance in the state.
Rajesh Kumar Singh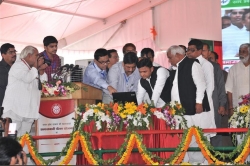 Uttar Pradesh is the most populous state in the country accounting for about 17 percent of the country s total population. It is the fourth largest state in terms of size with 75 districts and nearly 1.06 lakh villages. However, it is a little known fact that Uttar Pradesh was one of the first states to kick start ICT initiatives in e-Governance. The state already has a fully automated treasury system; online land records information, fully functional transport system, web based commercial tax & social welfare portals, online recruitment and transfer processes. Many other sectors like land registry, urban & rural development, health & family welfare are already at advanced stages of computerization. Uttar Pradesh is also leading in implementation of a number of NeGP projects such as e-District, SSDG & SWAN.
Dr. Saurabh Gupta, Anshu Rohatg I
Search Online News