News matching with tag "e-Service"
Showing 151 to 155 of total 158 items
Adorned by hills and plateaus, spreading natural splendor with sparkling rivers amidst dense forests, harboring variety of flora and fauna, West Singhbhum, situated in the southern part of Jharkhand state. The largest district of the state, came into being in 1990, when the erstwhile Singhbhum district was bifurcated, with Chaibasa as its district headquarter. Tribals, constituting majority, producing exotic agro forestry products for their livelihood, have a unique charm and provide tourists an insight to their ethnic legacy.
Adyapada Tripathy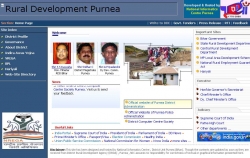 Constituted in the year 1813 the Purnea District comprises the eastern most part of the alluvial North Bihar plain. The name district was derived from the lotus flower, which was found in abundance in the past in the canal of Kosi and Mahananda rivers. Situated along the border of West Bengal & Nepal, Purnia district itself deserves the status of one of the oldest district in India. The District is moving ahead in keeping pace with the latest trends in ICTs and new happenings are on cards in coming days.
Gautam Kumar Mishra, PC Sahoo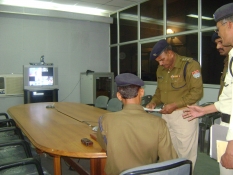 Pithoragarh, the picturesque district of Kumaon region in Uttarakhand, with a breathtaking panoramic view of Himalayas, summons tourists worldwide to its alluring grandeur of natural beauty. Sharing borders with China (Tibet) on northern side and Nepal on the east, the district has a population of about 5 lakhs spread over an area of 7090 sq. kms. The famous Kailash Mansarovar Yatra conducted by Ministry of External Affairs also passes through Pithoragarh.
Dr. J.J.S. Bisht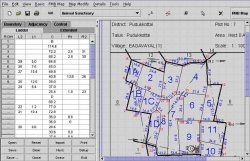 The NIC State Unit of Tamilnadu is not only fostering impeccable ICT activities within the state but also has contributed substantially to growth in the Indian as well as the global ICT industry. With a large pool of highly skilled manpower and a solid backbone of old/new economy Infrastructure, Tamil Nadu enjoys the reputation of being one of the best administered and most investor friendly states in India. It has been judged as one of the best e-governed states in the country in a recent survey. The following report gives an overview on why Tamilnadu is gradually developing into a centre of ICT excellence in India.
R. Gayatri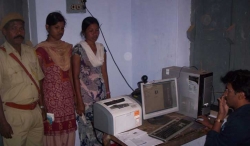 Hazaribag- literally meaning City of Thousand Gardens, is situated at 2019 ft above the sea level in the North Chotanagpur Plateau. Congenial salubrious climate, abundant flora, fauna, wildlife sanctuary, lakes and hills have attracted tourists to this place since long and is also considered as a health resort. The district town is located 90 kms north of Ranchi, the capital of Jharkhand. About 45 percent of the area is covered by forest comprising medicinal plants, trees, Leopards, bears, exotic birds etc. Minerals like mica and coal are in found in abundance.
Shailendra Kumar Deo
Search Online News