News matching with tag "Governance"
Showing 11 to 15 of total 125 items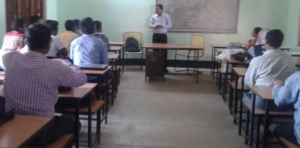 The training programme on "I.C.T. applications in Revenue administration" was organised by DIO, NIC, Sambalpur for Revenue Inspectors of different districts of northern Odisha at Revenue Inspectors Training Institute (R.I.T.I.), Larkank, Sambalpur. R.I.s are the grassroots level revenue officials and ICT knowledge is very much essential to deal with e-Governance applications used / to be used for revenue administration. To cater the e-Governance knowledge upgradation
...
A. K. Hota, Odisha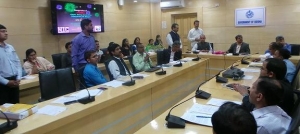 eOffice for Odisha Mining Corporation (OMC), Collectorate Ganjam and DFO Baripada were launched by Chief Secretary, Odisha Sri Aditya Prasad Padhi at 2nd Floor Conference Hall, Secretariat, Bhubaneswar on dt- 31.01.2017 by 6 PM. Others present in the occasion include Sri R. Balakrishnan, IAS, Development Commissioner, Sri Ashok Meena, IAS, Special Secretary, GA Dept., Sri Sanjeev Chopra, IAS, Principal Secretary, Industries, Sri Sanjay Singh, IAS, Secretary, Skill Development, Sri R.
...
A. K. Hota, Odisha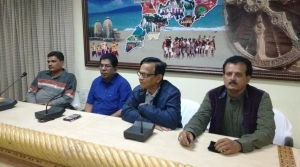 One day Workshop-cum-Capacity Building programme on Cashless Transaction held in the conference hall of Revenue Divisional Commissioner, Southern Division, Odisha, Berhampur. The programme was organized by NIC, RDC, Southern Division Unit, Berhampur. The main objective of the programme was to train the participants on how to make cashless transaction using various electronic payment methods. The workshop was inaugurated by D.D.G-cum-S.I.O Odisha Sri
...
A. K. Hota, Odisha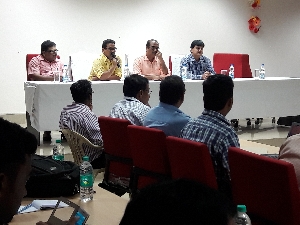 Two days training programme on ActionSoft v2.0 was organized by Housing & Urban Development Department, Govt. of Odisha, for Urban Local Bodies (ULB) on 29.11.2016 & 30.11.206. All 05 Municipal Corporations, 45 Municipalities and 60 Notified Area Councils (NAC) have attended this programme. Three (03) officials from each ULB participated in this programme. Shri Sachin Jadav, I.A.S. Director, Municipal Administration, Housing & Urban Development Department, Govt. of Odisha inaugurated
...
A. K. Hota, Odisha
NIC Nagpur District Centre has setup a "Self Service KIOSK" at Collector Office, Nagpur for providing printed copy of Land record of rights for farmers. This facility will be subsequently installed at "Fetari" village in Nagpur Gramin Taluka. Farmers can obtain the digitally signed copy of "Record of Rights (7-12 form)", through this KIOSK by paying fees of Rs.Twenty. This KIOSK was demonstrated to Hon. Chief Minister, Maharashtra.
...
Moiz Hussain, Maharashtra
Search Online News