News matching with tag "e-Tender"
Showing 11 to 15 of total 28 items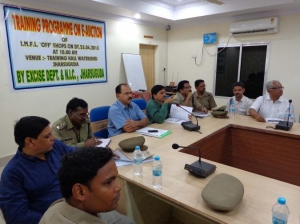 One day Training Programme for Bidders of Jharsuguda District on eAuction of IMFL 'OFF' Shops was conducted on 23/04/2013 at Training Hall, Watershed, Jharsuguda. Shri Uttam Kumar Meher, Superintendent of Excise, Jharsuguda addressed the participants and explained importance of the project. About 50 perspective bidders attended the training programme. He insisted for active participation in the training programme for clear understanding and successful implementation of the
...
A. K. Hota, Odisha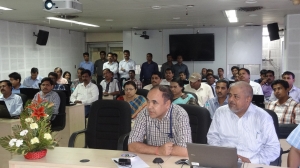 With the firm decision of Government of Odisha to go ahead with the allotment of licenses of about 1400 IMFL off shops and CS shops through eAuction platform of NIC, a one day workshop was conducted in NIC Bhubaneswar for District Informatics Officers of Odisha on 25th April 2013. The workshop was a joint effort of NIC Odisha and Excise department, Government of Odisha with the objective of imparting training to DIOs on eAuction process and domain knowledge on excise procedures so that the DIOs
...
A. K. Hota, Odisha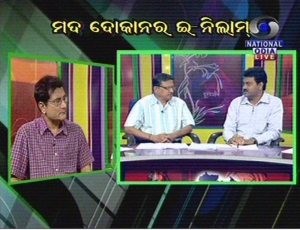 Government of Odisha has decided to issue licenses of IMFL (Indian Made Foreign Liquor) off shops and CS (Country Spirit) shops under Excise department through the process of eAuction for which NIC has been entrusted the responsibility to provide the software platform. As a part of the change management initiative the Live Phone-in programme has been telecasted in DD National (Odia) channel on 18th April 2013 from 5.02 pm to 5.30 pm. The objective of this programme was to enable the prospective
...
A. K. Hota, Odisha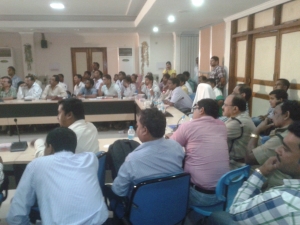 With the objective to allot the liquor shop licenses in a transparent manner and in the process bring in more revenue to the government exchequer, Excise Department, Government of Odisha is going to launch eAuction system recently. To this effect the government has issued new excise policy as well as notification highlighting the modalities of eAuction process. To create awareness among the prospective bidders newspaper advertisements have been published to suitably join the massive
...
A. K. Hota, Odisha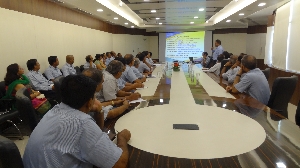 Rashtriya Chemicals and Fertilizers Ltd. (RCFL) is a major producer of Fertilizers in India. It contributes to the National Agricultural Productivity by providing agricultural inputs and services. It is also engaged in various research and development activities like soil science, agronomy and related technology and processes. It is having three manufacturing units in Maharashtra with Head Quarter in Mumbai. For its procurement activities RCFL approached NIC to implement eProcurement. RCFL expressed
...
A. K. Hota, Odisha
Search Online News