News matching with tag "ICT in Districts"
Showing 11 to 15 of total 94 items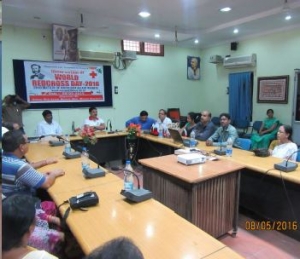 The official website of Rayagada Blood Bank (http://rayagadablood.nic.in) has been inaugurated by Sri Jagannath Mohanty, Collector & District Magistrate, Rayagada on 08.05.2016 at DRDA Conference Hall, Rayagada. Among the dignitaries present on the occasion include Sri Laxmikant Behera, ADM, Dr. Ananda Padhy, Vice President, RCBB, Rayagada, Sri P.V.S.S. Gangadhar, DIO-NIC, Sri Guna Sekhar Netheti, ADIO-NIC, all the District Level Officers and Red Cross Society life members etc.. Inaugurating
...
A. K. Hota, Odisha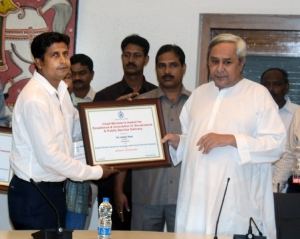 NIC District Unit, Subarnapur with its state-of art infrastructure, is rendering its service of excellence since the inception of the district in the year 1993 with the objec tive to facilitate e-Government / e-Governance applications in the district. Apart from all state and national level applications, NIC Subarnapur has many indigenous projects which grabbed attention in state and national level. Recently Subarnapur District received the prestigious "Chief Minister's Award
...
A. K. Hota, Odisha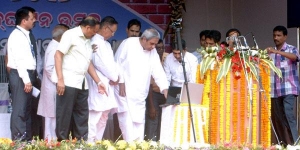 eOffice for the Collectorate, Sundargarh, Govt. of Odisha, was inaugurated at Bisra Maidan, Rourkela by the Hon'ble Chief Minister of Odisha, Shri Naveen Patnaik on dt-24.02.2016 at 11.30 AM. Others present in the occasion were – Sri Juel Oram, Union Minister for Tribal Welfare, Sri Dillip Tirkey, Hon'ble MP, Sri Prafulla Kumar Mallik, Hon'ble Minister of Odisha, Sri Sarada Nayak, Chairman, Rourkela Development Authority, Sri Subrat Tarai, Hon'ble
...
A. K. Hota, Odisha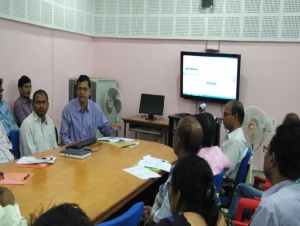 A training programme on College Accounting Procedure Automation (CAPA) Application was conducted for Data Entry Operators, Accountants, Accounts Bursars and some Principals of 14 no of 488 Block Grant Colleges under Dhenkanal District on Dt.25.02.2016. On his introductory speech Dr. Rabindra Kumar Rath, District Level Consultant, Dhenkanal, welcomed the participants and explained the requirement and effectiveness of online accounting procedure in maintaining transparency and accountability. Shri
...
A. K. Hota, Odisha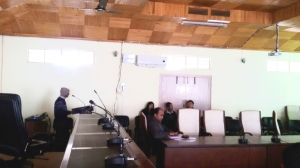 A workshop cum training program on the implementation of SBM-MIS application was conducted by NIC, Mon District Centre, Nagaland, at the DC Conference Hall on 10th February 2016. All the features of the SBM-MOUD website (https://SwachhBharatUrban.gov.in) like Mission progress, ULBs login, Household/Citizen login Option, IHHL Application Format, IHHL Constructed Toilet Photo Upload Process, eCourses and many other features was explained by Mr. Ravi Ranjan Kumar, DIO, NIC, Mon. The demo site
...
Novotsono, Nagaland
Search Online News