News matching with tag "Technology"
Showing 11 to 15 of total 138 items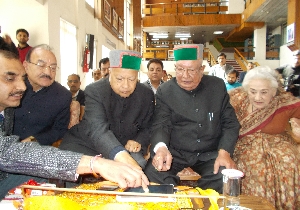 Sh. Virbhadra Singh, Honourable Chief Minister of Himachal Pradesh launched the eVidhan Mobile App, Part-I, for the Members of the HP Vidhan Sabha on 30th March 2015 at Shimla in the presence of Sh. Brij Bihari Lal Butail, Honourable Speaker of HP Legislative Assembly. A number of Ministers and Members of the Legislative Assembly were present during the launch ceremony in the Library Hall of the HP Legislative Assembly, including cabinet ministers Sh. Kaul Singh Thakur, Mrs. Vidya Stokes, Sh.
...
Ajay Singh Chahal, Himachal Pradesh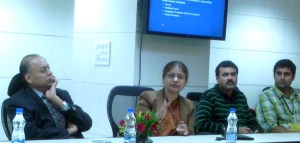 Common Minimum Framework (CMF) is a project under the "Digital India" envisaged to improve the quality of Government websites for better presentation and citizen centric features. This shall also necessarily move towards making these websites accessible to all. The project initially includes a mandate to upgrade upto 100 websites of Ministries/Departments of the Government. A meeting of HoG's, HoD's of NIC was held on 16th and 17th Dec'2014 at DeitY
...
Mohan Das Viswam, NIC-HQ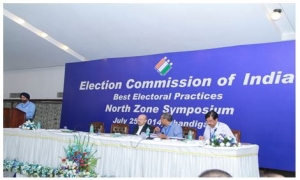 A North Zone symposium on Best Electoral Practices was held on 25th July, 2014 at Hotel Mount View, Sector-10, Chandigarh. There were 30 participants (Chief Electoral Officers, Addl. CEOs, IGP Ranges/ SPs & District Electoral Officers) from Northern States/UTs (Punjab, Haryana, Himachal, UP, J&K, Rajasthan & Uttrakhand, Delhi & UT Chandigarh) who attended the symposium. It was chaired by Election Commissioner, ECI along with DG, ECI & CEO, UT Chandigarh. There were five
...
Poonam Gupta, Haryana
A workshop on the Digital Signature Certificates was organised at Shimla on 14th July 2014 for the Heads of Departments and other officials of the State Government. The faculty for the workshop was provided by the Controller of Certifying Authority (CCA) Government of India. More than fifty senior officers of the State Government participated in the workshop. Dr. Balaji Rajendran, Senior Technical Officer, from the Centre for Development of Advance Computing (C-DAC), Bangalore delivered
...
Ajay Singh Chahal, Himachal Pradesh
"ePMS, an On-line Project Management System for Karnataka tracks the projects involving investment 100 crore to 1000 crore. It enhances the efficiency, bring transparency and improve the communication between industries to Government and State to Centre or vice versa. It automates the entire tracking of stalled investment projects in the context of the bottlenecks. Industries can submit their projects with issues after creating their login credentials. When any project with issues is being
...
Dr. Shubhag Chand, Delhi
Search Online News