News matching with tag "Transport"
Showing 11 to 15 of total 26 items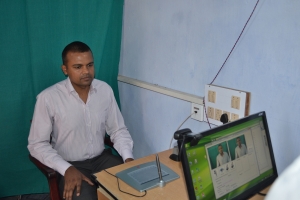 Smart card based driving license (SCDL) system was launched in Mau on 11th March 2013 by District Magistrate Shri Bhupendra S Chaudhary from the Regional Transport Office Mau, Uttar Pradesh. After completing the required formalities, such as bio-metric scanning of fingers and digital photograph of applicant, the RTO Shri Shyamlal issued the first SCDL of the district to Shri Chaudhary. Senior functionaries of the district administration & transport department Shri Sarvesh Chaudhary, Daya
...
Anshu Rohatgi, Uttar Pradesh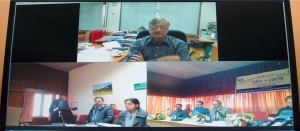 A two-days State level Transport Conference on Vahan and Sarathi was held at Shimla on 4th and 5th of March 2013. Around 70 officers from the Department of Transport, State Administration, NIC District Centres and Police participated. The Conference was held in the Himachal Pradesh Institute of Public Administration, Fairlawns, Shimla. Dr. Mahesh Chandra, DDG NIC participated in the inaugural session through Video Conferencing and assured full support to the State Transport Department in
...
Ajay Singh Chahal, Himachal Pradesh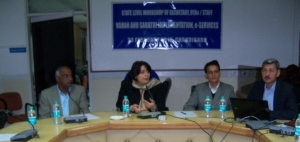 A Workshop cum training Programme was conducted for Secretary, RTAs and staff of Regional Transport Authorities of Haryana on 23rd February. The programme was inaugurated by Smt. Sumita Misra, IAS, Transport Commissioner, Haryana. She addressed the officers and emphasized upon standardization of business processes related to vehicle registration and driving licenses by using VAHAN, SARATHI and other solutions developed by National Informatics Centre under the guidance of Ministry of
...
Poonam Gupta, Haryana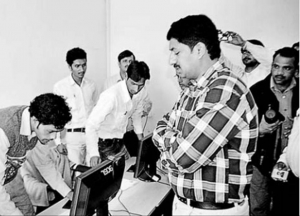 Uttar Pradesh Transport Department has decided to roll out of SARATHI software based Smart Card Driving Licenses across the State by dividing the districts in a phase wise manner starting from January 9, 2013. Etawah being in third phase was inaugurated by District Magistrate, Etawah, Shri P Guruprasad, IAS on 26-Feb-2013. The DM visited the RTO Office to register his thumb impression and photograph to get the SMART Card based License made. He told the people and media present that the new
...
Anshu Rohatgi, Uttar Pradesh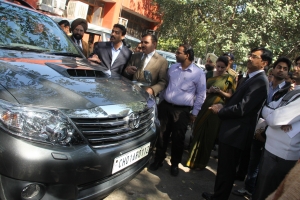 In pursuance to provisions made under section 41(6) of Motor Vehicle Act, 1988 read with Rule 50 of Central Motor Vehicle Rules, 1989 as notified by the Government of India, Ministry of Road Transport and Highways to introduce High Security Registration Plate (HSRP) System in India, Sh. Anil Kumar, IAS, Home Secretary –cum- Transport Secretary Chandigarh Administration inaugurated the affixation work of HSRP on 28th Feb 2013, in the premises of Registering and Licensing Authority,
...
Vivek Verma, Chandigarh
Search Online News