News matching with tag "ICT Initiatives"
Showing 11 to 15 of total 136 items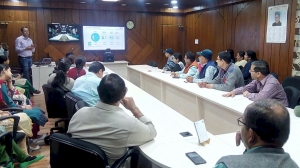 In order to promote cash-less or digital modes of making payments, a series of Awareness programs were organized in HP Secretariat, Shimla by the NIC State Centre, Shimla for the employees of the HP Government. These awareness programs were held from 20th March to 29th of March 2017 in the high-tech Video Conference-cum-Training Room set up by NIC in the HP Secretariat. Sh. Shailender Kaushal, NIC Coordinator organized these short-duration awareness programs using audio-visuals, displaying
...
Ajay Singh Chahal, Himachal Pradesh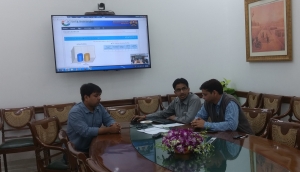 eSamikSha, an online Monitoring and Compliance Mechanism has been developed by Cabinet Secretariat Informatics Division, to fast track the compliance of pending action points, proposal, targets, etc. of various Ministry/Department/Organization/Agency of Govt. of India and Government of States and UTs. The Portal has been designed in such a way that it will enhance efficiency, bring transparency, reduce the need of protracted correspondence and improve the communication between Government
...
Dr. Shubhag Chand, Delhi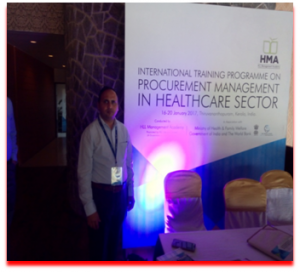 Mr Rahul Jain , Scientist-D and State Health Coordinator, Haryana presented a paper and delivered a lecture on "ICT Facilitation in Procurement & Supply Chain" in International Training programme on procurement Management in health care sector (16-20 January 2017) held in Thiruananthapuram, Kerala organized by HLL Management Academy(HMA) in association with Ministry of Health and family welfare, Government of India and World Bank on 20th January 2017.
...
Deepak Sawant, Haryana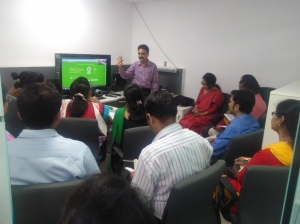 NIC Maharashtra State Centre organised an awareness program on Digital Payments for the officials of State Government departments at Secretariat Mumbai on 17th Jan. 2017. SIO Maharashtra and the coordinator Shri V. Srinivas Sr System Analyst conducted the session and gave the demonstration of various methods of digital payment and their integration with the e-Governance projects.
Moiz Hussain, Maharashtra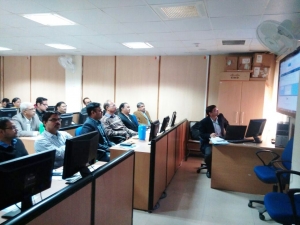 With an objective to create an institutional mechanism for fast-tracking stalled investment projects, both in the public and private sectors, Govt. of Rajasthan was launched Rajasthan e-Suvidha portal, on 24th November, 2014 an online mechanism to fast track approvals and resolve issues pertaining to infrastructure and other large projects. The mechanism has been developed by the NIC, Cabinet Secretariat Informatics Division. The mechanism aims at resolving a variety of issues with
...
Dr. Shubhag Chand, Delhi
Search Online News