News matching with tag "Cyber Governance"
Showing 11 to 15 of total 231 items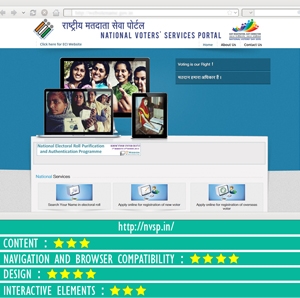 National voter's services portal is owned by the election commission of India which is a permanent Constitutional Body. The Constitution of India has vested in the Election Commission of India the superintendence, direction and control of the entire process for conduct of elections to Parliament and Legislature of every State and to the offices of President and Vice-President of India. The conscientiously designed portal comes with clear identity elements. The portal provides various online
...
Lokesh Joshi, Principal Systems Analyst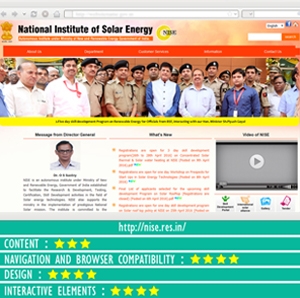 National Institute of Solar Energy, an autonomous institution of Ministry of New and Renewable (MNRE), is the apex National R&D institution in the field Solar Energy. It assists the Ministry in implementing the National Solar Mission and coordinates research, technology and other related works. The homepage of the website uses vibrant colours and has a prominent slider displaying pictures of various events and activities of the Institute. The global navigation menu present in the header
...
Lokesh Joshi, Principal Systems Analyst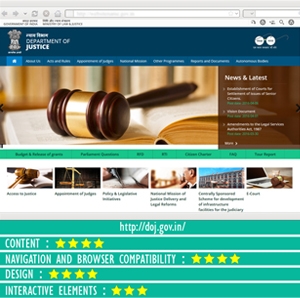 Department of Justice is a part of Ministry of Law & Justice and is one of the oldest Departments of Govt. of India. The functions of the Department of Justice include the appointment, resignation and removal of the Chief Justice of India, Judges of the Supreme Court of India, Chief Justices and Judges of the High Courts and their service matters. The Department implements important schemes for Infrastructure Development of Subordinate Judiciary, Legal Aid to Poor and Access to Justice. The
...
Lokesh Joshi, Principal Systems Analyst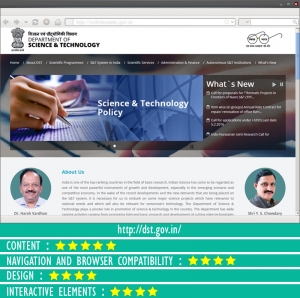 The Department of Science & Technology plays a pivotal role in promotion of science & technology in the country. The department has wide ranging activities from promoting high end basic research and development of cutting edge technologies on one hand to provide service to the technological requirements of the common man through development of appropriate skills and technologies on the other. The newly revamped information rich website of Department of Science comes with content divided
...
Lokesh Joshi, Principal Systems Analyst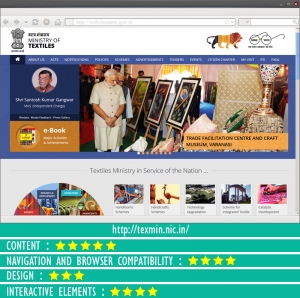 The indigenously designed website of ministry of textiles is endowed with up-to-date content arranged in two broad categories on the Homepage which showcases the different sectors and schemes of the Ministry. The website makes rich use of colors and graphics to highlight the different sections. It also has a large repository of documents that are categorised under various sections and presented prominently on the homepage. The website provides affluent content on significant topics catering to
...
Lokesh Joshi, Principal Systems Analyst
Search Online News