News matching with tag "Elections"
Showing 11 to 15 of total 32 items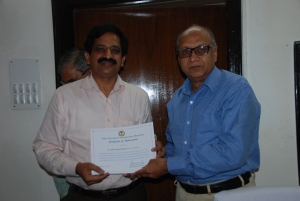 A half day Conference of all DIOs of NIC-Haryana, Dy. Commissioners of 07 districts of Haryana, where General Elections to Municipal Corporations of Haryana were held on 2nd June 2013, was organized by the Haryana State Election Commission on 12th August at Chandigarh, to deliberate on the extensive usage of ICT in Election Process. The conference was Chaired by State Election Commissioner Haryana, Sh. Dharam Vir, IAS (Retd.) and it was also attended by Chief Electoral Officer of Haryana,
...
Poonam Gupta, Haryana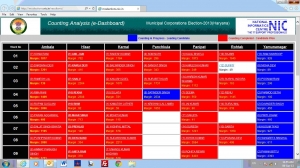 NIC-Haryana team developed a web based application for the Municpal Corporations Election-2013 held in seven numbers of Municpal Corporations of Haryana in the month of June'2013. Web based application was developed by the NIC-District Unit, Hisar and hosted at NIC-Haryana State Center under the domain http://mcelections.nic.in The SMS e-Dashboard was updated successfully, achieving 100% reporting from all the Polling Booths. The informations on the Dashboard were presented
...
Poonam Gupta, Haryana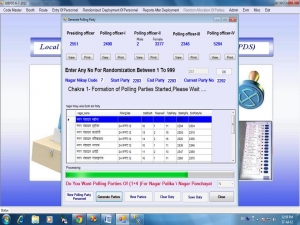 Uttar Pradesh is one of the largest states of the country and holding elections of Urban Local Bodies (ULB) in the state is a mammoth task with 728 seats (12 Nagar Nigam, 194 Nagar Palika & 422 Nagar Panchayat) in contention, around 35000 polling stations/booths and little more than 3 crore voters. More than 2 lakh officials are deployed across the state during the elections and various activities have to be coordinated to have free and fair elections in the state. In the recently held urban
...
Anshu Rohatgi, Uttar Pradesh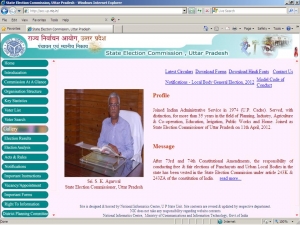 After 73rd and 74th Constitutional Amendments, the responsibility of conducting free & fair elections of Panchayats and Urban Local Bodies in the state has been vested in the State Election Commission under article 243K & 243ZA of the constitution of India. In Uttar Pradesh the State Election Commission was constituted on 23rd April 1994. The first election to the members of the Gram Panchayats, Kshetra Panchayats and Zila Panchayats and Pradhan of Gram Panchayats and Chairpersons &
...
Anshu Rohatgi, Uttar Pradesh
On the directions of Election Commission of India / CEO Haryana, the district Administration of Hisar and Fatehabad were asked to make arrangements for live Web casting from 02 polling booths each from 47-Adampur (District Hisar ) & 41-Ratia (District Fatehabad) Assembly Constituencies of Haryana where Bye-elections were conducted on 30th November, 2011. The technological responsibility was assigned to NIC Haryana. By extending the NIC-IP, Leased Lines from BSNL and with
...
Poonam Gupta, Haryana
Search Online News