News matching with tag "Governance"
Showing 6 to 10 of total 128 items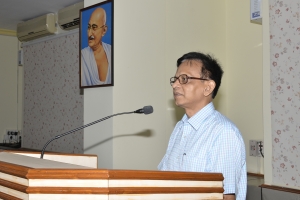 Government of Odisha in collaboration with the Reserve Bank of India organized a workshop on "Digital Payment in Government" on 17/07/2017 at Madhusudan Das Regional Academy of Financial Management, Bhubaneswar. The day long workshop was attended by officers from Odisha Financial Service from all over Odisha including the probationers. Speaking on the occasion, Shri Tuhin Kanta Pandey,IAS, Principal Secretary (Finance), Government of Odisha highlighted the achievements of Government
...
A. K. Hota, Odisha
Hon. Chief Minister of Maharashtra launched http://mahapar.maharashtra.gov.in web application at Vidhan Bhawan on 11/07/2017 and appreciated the work of NIC Maharashtra for successful implementation. Additional Chief Secretary(Services),Govt of Maharashtra, have acknowledged the excellent support given by NIC, Maharashtra and NIC HQ, New Delhi and stated that this application software will help State Government in better administration of Annual Performance Appraisal Reporting of officers of State
...
Moiz Hussain, Maharashtra
The Government of Haryana has decided to create a single source of resident data through a unified State Resident Database (SRDB), where the Aadhaar based eKYC enabled survey should be conducted by using Android Tabs – 'The Jan Seva Survey' (JSS). This would be an extensive exercise involving about 15,000 enumerators in the field to complete the task. In this regard, a startup meeting was held over NICNET VC setup on 29th July 2017 at 5.00PM under the chairmanship of Hon'ble
...
Deepak Sawant, Haryana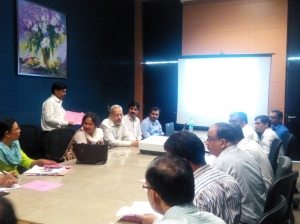 Online submission of Performance Appraisal Reports (PAR) for officers of 13 cadres of State Government is successfully implemented by NIC Maharashtra in coordination with NIC Delhi. This project is implemented on the lines of Smart Performance Appraisal Report Recording Online Window(SPARROW) system which is implemented for the All India Service officers of Maharashtra. Maharashtra is one of the few States which have implemented this system. The instance http://mahapar.maharashtra.gov.in
...
Moiz Hussain, Maharashtra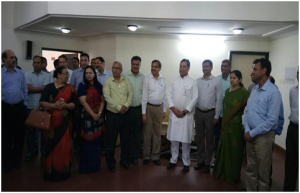 Capt. Abhimanyu, Finance Minister, Haryana hosted a high tea at Haryana Niwas Chandigarh for the officers of Finance Department and NIC Haryana State Centre involved in preparation of budget preparation exercise for the Financial year 2017-18. SH. Sh. G.S. Bansal DDG & SIO Haryana along with NIC Finance Department Cell comprising of Sh. Deepak Bansal, Sr. Technical Director, Sh. Virender Trivedi, PSA and Sh. Jagdish Lal Mehndiratta SSA were also present . Speaking on
...
Deepak Sawant, Haryana
Search Online News