News matching with tag "Technology"
Showing 6 to 10 of total 141 items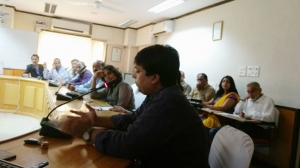 eSamikSha, an online Monitoring and Compliance Mechanism has been developed by Cabinet Secretariat Informatics Division, to fast track the compliance of pending action points, proposal, targets, etc. of Various Ministry/Department/Organization/Agency of Govt. of India and Government of States and UTs. The Portal has been designed in such a way that it will enhance efficiency, bring transparency, reduce the need of protracted correspondence and improve the communication between Government to Government
...
Dr. Shubhag Chand, Delhi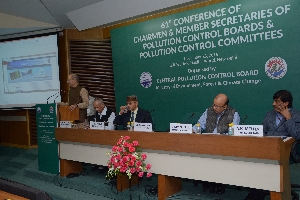 Shri Anil Madhav Dave, Minister of State (Independent Charge) of Environment, Forest and Climate Change (MoEF&CC), launched the CPCB-eSamikSha Portal on 23rd November, 2016 in the 61st Conference of Chairmen & Member Secretaries of Pollution Control Boards and Pollution Control Committees at Indian Habitat Centre, Lohdi Road, New Delhi. Shri Ajay Narayan Jha, Secretary, MoEF&CC, Shri S.P.S Parihar, Chairman, CPCB, Dr A.B Akolkar, Member Secretary, CPCB, Member Secretaries of State
...
Dr. Shubhag Chand, Delhi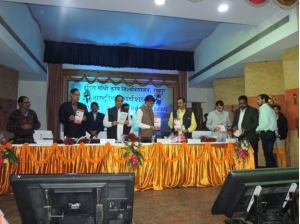 On the 20th Jan'2016, the 30th foundation day of the Indira Gandhi Krishi Vishwavidyalaya (IGKV), Raipur the National Workshop on "Concepts of Higher Education and its Future Nature" was organized. On this occasion the university moved one step ahead towards ICT penetration in the administration by Launching its first "Android based Mobile App" for the benefit of students, faculty members of the university, all constitutional and affiliated colleges. The
...
Y.V.Shreenivas Rao, Chattisgarh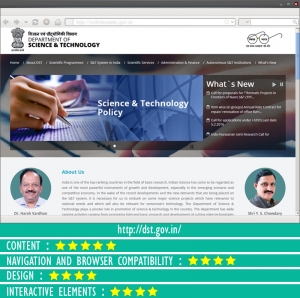 The Department of Science & Technology plays a pivotal role in promotion of science & technology in the country. The department has wide ranging activities from promoting high end basic research and development of cutting edge technologies on one hand to provide service to the technological requirements of the common man through development of appropriate skills and technologies on the other. The newly revamped information rich website of Department of Science comes with content divided
...
Lokesh Joshi, Principal Systems Analyst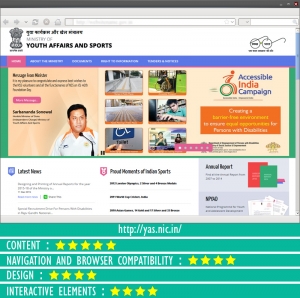 The Ministry of Youth Affairs & Sports was initially set up as the Department of Sports in 1982 at the time of organization of the IX Asian Games in New Delhi. Its name was changed to the Department of Youth affairs & sports during celebration of the International Youth Year, 1985. It became a Ministry on 27th May 2000. Subsequently, the Ministry has been bifurcated in Dept. of Youth Affairs and Dept. of Sports. The conscientiously designed website offers plethora of content. Homepage
...
Lokesh Joshi, Principal Systems Analyst
Search Online News