News matching with tag "Inaugurations"
Showing 6 to 10 of total 45 items
District Magistrate, Hardoi Shri A.K Dwivedi inaugurated the single window kiosk at tehsil Sadar on 1st April 2013. Computerized Caste, Income and Domicile Certificates will be issued to the citizens from these Kiosks. The computerized certificate delivery system has multiple benefits over the manual process, previously an applicant had to make multiple visits to the concerned office and wait in long queues to obtain a certificate. Now the certificates will be delivered from the kiosk and
...
Anshu Rohatgi, Uttar Pradesh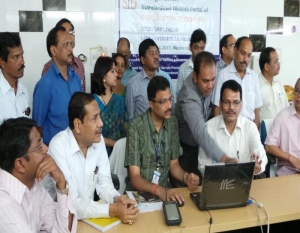 The Standardised District Portal of Puri District (http://puri.nic.in ) was inaugurated by Dr. Arabinda Padhee, IAS, RDC(CD) on Dt-20.03.2013 at NIC Puri in a function organized in the Video Conference Hall, Collectorate Building in presence of Sri Naba Kumar Nayak, Collector & DM, SP, ADM, PD, DRDA, Puri. Speaking on the occasion Dr Padhee expressed that the standardized portal is having a common look and feel , can facilitate common citizen to get various citizen centric services
...
A. K. Hota, Odisha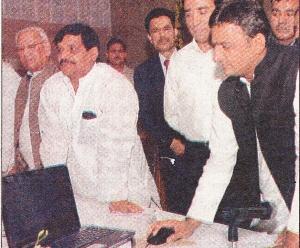 Uttar Pradesh Chief Minister Shri Akhilesh Yadav inaugurated the Revenue Court Management System (RCMS) on 13th March 2013 at Lucknow. He was accompanied by Revenue Minster of UP Shri Ambika Chaudhary, Chairman Board of Revenue Shri Jagan Mathews, Principal Secretary, Department of Revenue, Shri K.S. Atoria, Commissioner/Secretary Board of Revenue Shri Anil Kumar, DDG & SIO, NIC, UP Shri S.B. Singh and other senior functionaries of the state government. In his address to the people and
...
Anshu Rohatgi, Uttar Pradesh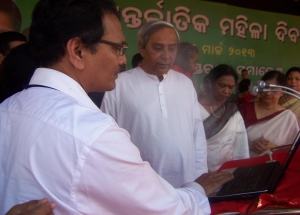 On the eve of International Women's day, the website of Odisha State Commission of Women was launched by Shri Naveen Patnaik, Hon'ble Chief Minister of Odisha on dt-08.03.2013 at 11.30 AM., in the presence of Smt Usha Devi, Hon'ble Minister Women and Child Development (WCD) Department, Government of Odisha, Smt Saraswati Hembram,Hon'ble Minister Textiles, Shri Prasanna Kumar Patsahani, Hon'ble MP, Bhubaneswar, three Hon'ble MLAs of Bhubaneswar,
...
A. K. Hota, Odisha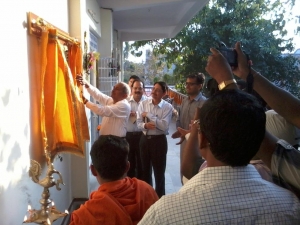 Administrative Skill Development Centre (ASDC), an innovative idea of Dr. Krishan Kumar, IAS, Collector, Ganjam, saw its light on 26th Feb 2013 with inauguration of state of the art Skill Development Centre by Shri Bijay Kumar Patnaik, IAS, Chief Secretary, Odisha. This center is dedicated for the skill development of the officers and staffs of all the offices of the district. It has been planned to hold training programmes round the year on various aspects of governance. The centre
...
A. K. Hota, Odisha
Search Online News