News matching with tag "Transport"
Showing 6 to 10 of total 28 items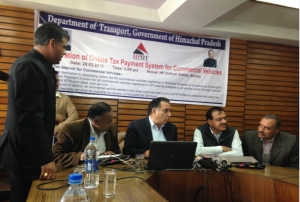 Sh. G.S. Bali, Honourable Transport Minister of Himachal Pradesh inaugurated the Online Tax Payment System of commercial vehicles through the Department of Transport website at http://himachal.nic.in/transport on 26th March 2015. Sh. Ajay Mittal, Additional Chief Secretary Transport, Dr. R.N. Batta, Commissioner Transport, HP Government, Sh. Ajay Singh Chahal, SIO HP, Sh. Lalit Kapoor, TD, Sh. Prithvi Raj Negi, Programmer NIC were present during the occasion. Addressing the media persons,
...
Sandeep Sood, Himachal Pradesh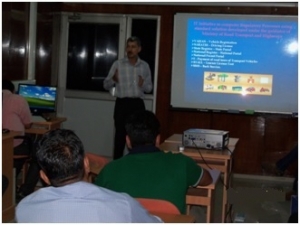 A special two Days Training Programme on Computerization of Regulatory processes in the Registration and Licensing Authorities of Haryana and various IT initiatives was conducted for two batches of 20 officers/officials each of Transport Commissioner Office, Haryana. The Training was conducted at the training Lab of IT Department Haryana especially in four Saturdays ( August 17th ,24th, 31st and September 7th 2013) to ensure full day participation as it was not working day. On First day
...
Poonam Gupta, Haryana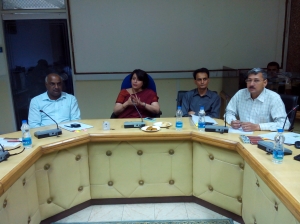 A Workshop cum training Programme was conducted for Secretary, RTAs and staff of Regional Transport Authorities of Haryana on 7th May 2013. The programme was inaugurated by Smt. Sumita Misra, IAS, Transport Commissioner, Haryana.She addressed the officers and emphasized upon taking all the benefits of computerization process to streamline the work of Registration and Licensing Authorities in Haryana. She suggested Secretaries, Regional Transport Authorities (Secy. RTAs) to personally start
...
Poonam Gupta, Haryana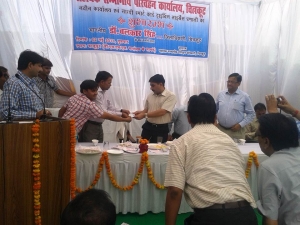 Smart Card based Driving License system was inaugurated at ARTO Chitrakoot on 2nd May 2013 by Dr. Balkar Singh District Magistrate, Chitrakoot Uttar Pradesh. The district is in the Seventh and last phase of SCDL Implementation in Uttar Pradesh as planned by the UP Transport Department. Senior functionaries of transport department Shri Uday Ram ARTO and Shri Anil Mishra RTO Banda were present during the inauguration. The system restricts the issuance of fake and duplicate DLs as the applicants
...
Anshu Rohatgi, Uttar Pradesh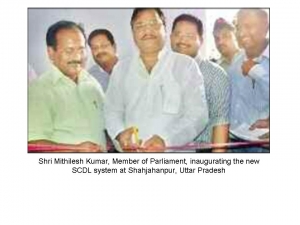 Smart Card based Driving License (SCDL) was inaugurated at ARTO Shahajahanpur Uttar Pradesh by Shri Mithilesh Kumar, Member of Parliament and Shri Raj Mani Yadav, District Magistrate Shahjahanpur. The district is in the seventh and last phase of SCDL Implementation in Uttar Pradesh as decided by the UP Transport Department. The first SCDL of the district was issued to Shri Mithilesh Kumar. Senior functionaries of the transport department Shri Shikhar Ojha, ARTO Enforcement and Shri R.P Gangwar,
...
Anshu Rohatgi, Uttar Pradesh
Search Online News