News matching with tag "ICT Initiatives"
Showing 6 to 10 of total 37 items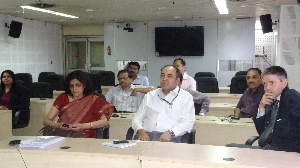 As a novel initiative, Government of Odisha has decided to issue licenses to IMFL off shops and CS shops under Excise department through eAuction. NIC has been entrusted the job to develop the platform for eAuction. A core team comprising officers from Excise Department, Project OMEGA (Odisha Modernizing Economy, Government and Administration), NIC , and SPC(State Procurement Cell) has been formed and the team has been deliberating on modalities of eAuction process through several
...
A. K. Hota, Odisha
INTRA-IPS (http://intraips.gov.in) official website has been launched by Shri S. Jayaraman, Special Secretary-Internal Security, Ministry of Home Affairs, at New Delhi on 8th April 2013. This exclusive website for Indian Police Service (IPS) officers will help them to access all matters concerning their 'service' from anywhere in the country. The website has been designed, developed and hosted by National Informatics Centre, North Block, MHA, New Delhi under the leadership of Ms. Suganthi
...
N.K Prasad, Delhi
A presentation ceremony was organized on 17th March 2013 at Ibrahim Nasir International Airport, Male, Maldives on the handing over of Advance Passenger Information System (APIS) of National Informatics Centre (NIC) to Republic of Maldives by Government of India. In the ceremony, APIS Module of IVFRT-MMP was presented to Dr. Mohamed Ali, Controller of Immigration & Emigration, Maldives by H.E. D. M. Mulay, Indian High Commissioner, Maldives. Speaking on the occasion Dr. Ali said that Maldives
...
N.K Prasad, Delhi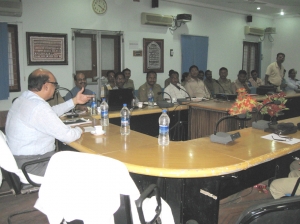 The "District Level Awareness Programme on e-Auction Process" was conducted on 14-03-2013 at DRDA Conference Hall, Rayagada. The programme was organized jointly by Excise Department and NIC, Rayagada. Shri S. B. Padhi, Collector, Rayagada chaired the programme and Sri Nayak, Excise superintendent, Rayagada welcomed the participants. At the beginning, Collector, Rayagada explained the new system going to be adopted by the Excise department and briefed the rules and regulations.
...
A. K. Hota, Odisha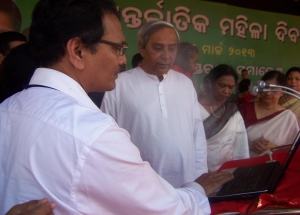 On the eve of International Women's day, the website of Odisha State Commission of Women was launched by Shri Naveen Patnaik, Hon'ble Chief Minister of Odisha on dt-08.03.2013 at 11.30 AM., in the presence of Smt Usha Devi, Hon'ble Minister Women and Child Development (WCD) Department, Government of Odisha, Smt Saraswati Hembram,Hon'ble Minister Textiles, Shri Prasanna Kumar Patsahani, Hon'ble MP, Bhubaneswar, three Hon'ble MLAs of Bhubaneswar,
...
A. K. Hota, Odisha
Search Online News