News matching with tag "Awards"
Showing 6 to 10 of total 44 items
The seamless and valuable efforts of District Jhalawar (Rajasthan) in bringing good governance through utilization of ICT (Information and Communication Technologies) were appreciated at ceremony held on Dec. 2nd, 2012 as part of Annual Convention of Computer Society of India in Science City, Kolkata. District Informatics Officer, NIC Jhalawar Mr. Badal Agrawal and Assistant Programmer Mr. S.D. Mathur ceremoniously
...
Chandan Sen, Rajasthan
The Haryana's project Dynamic Integration of Property Registration, Land Records & Cadastral Maps has received CSI-Nihilent Awards 2011-12, under Projects Category, on December 02, 2012 at Science City Kolkata. The award was presented at the 47th Annual Convention of Computer Society of India, which organized International Conference on Intelligent Infrastructure, at Science City, Kolkata, during December 01-02, 2012. The award was presented by Padma Shri Prof P.V.S. Rao. Chief
...
Poonam Gupta, Haryana
'Guidelines for Indian government websites' received the gold award in the 'ICT' category and 'central government' sector at the Skoch Digital Inclusion Awards 2012. The award was presented to the group by Mr Salman Khurshid, Hon'ble Minister, Ministry of Law & Justice & Ministry of Minority Affairs at a function held on 18th of September 2012. NIC has formulated 'Guidelines for Indian Government Websites' with a view
...
Lokesh Joshi, Delhi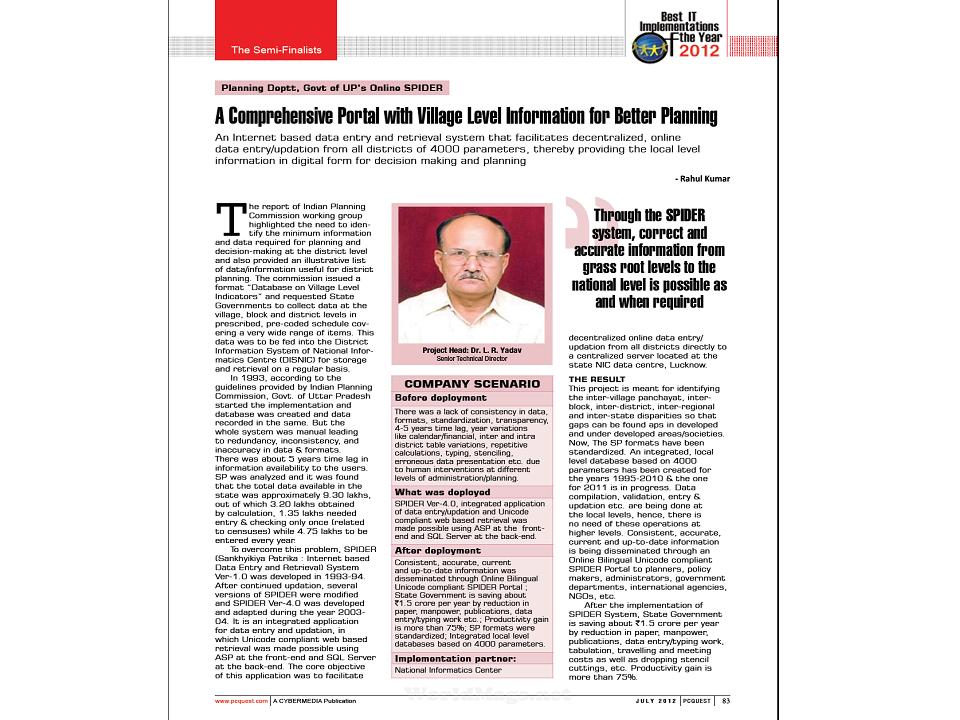 PC Quest, on its 25th anniversary has organised Best IT Implementation Awards, 2012. Out of 175 nominations from over 30 cities and 25 different types of industries, SPIDER and eMANCHITRA of Department of Planning, GoUP and NIC, Uttar Pradesh have cleared the second and third stage to be amongst the top 25 semi-finalist. Both the articles have been printed in the June and July 2012 issues of PC Quest Magazine. SPIDER is an internet based data entry and retrieval system that facilitates decentralized,
...
Anshu Rohatgi, Uttar Pradesh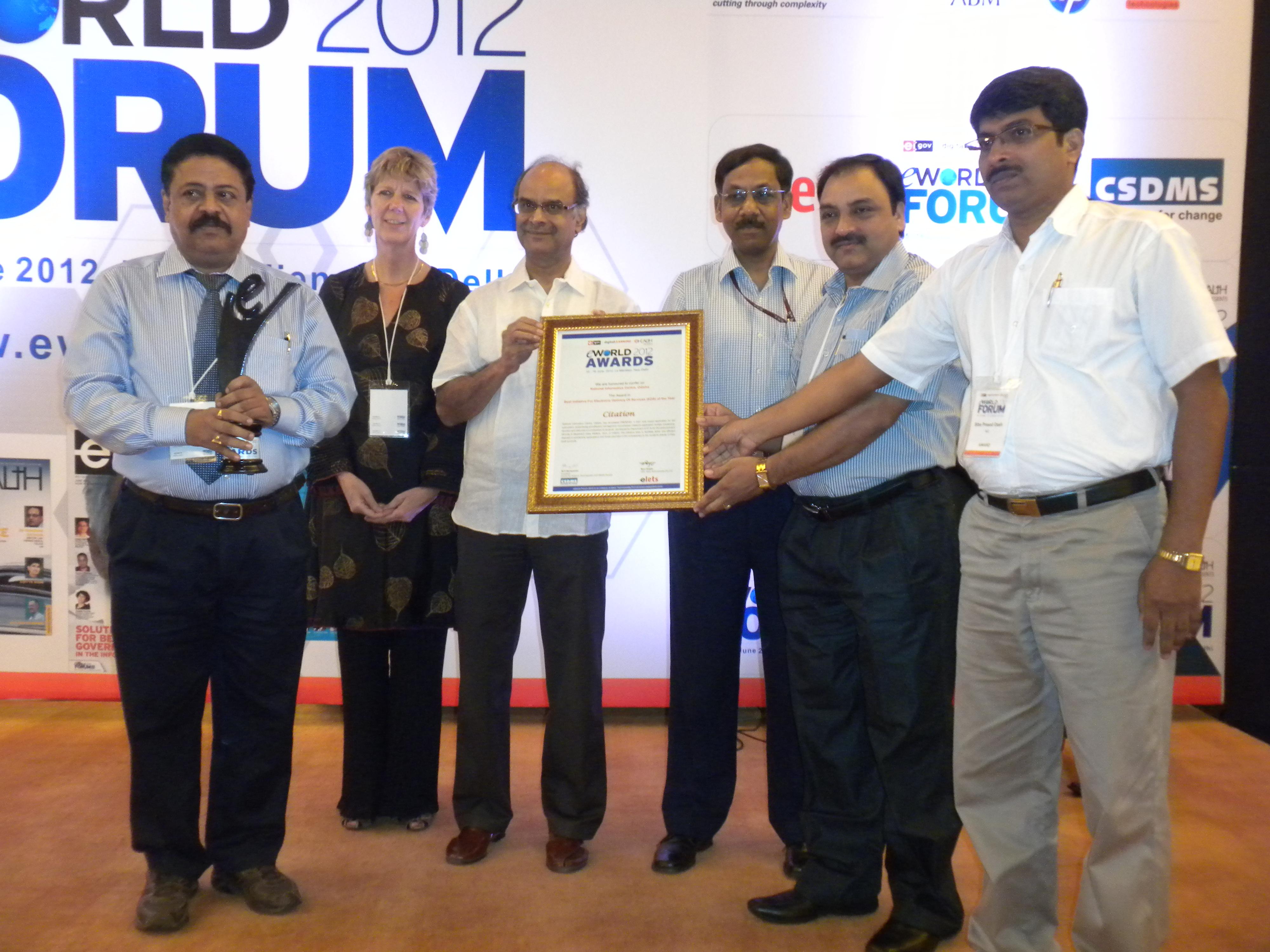 PRERANA – Post-Matric Scholarship REgistration Release And Network Automation, the e-Scholarship delivery mechanism for ST, SC, OBC / SEBC & Minority Department, Govt. of Odisha has received e-WORLD-2012 Award under Project Category "Best Initiative for Electronic Delivery of Services (EDS)". The citizen centric G2C web application conceived, designed and developed by NIC for Department of ST & SC Development and Minority & Backward Class Welfare, Govt. of Odisha
...
A. K. Hota, Odisha
Search Online News