News matching with tag "Biometric Authentication"
Showing 6 to 10 of total 28 items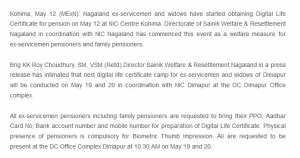 Jeevan Pramaan Camp for the ex-servicemen of Kohima District was held on 12th and 13th May, 2015 at the DC Office Complex, Kohima. The event was organised by Rajya Sainik Board led by Director of Sainik Welfare and Resettlement Brig. K. K. Roy Choudhary, SM, VSM (Retd.) and NIC Nagaland State Centre co-ordinated by Shri. Lanusungkum Aier, PSA and Ms. Novotsono Natso, Scientific Officer Around 70 ex-servicemen of Kohima District holding Aadhaar Cards have been successfully
...
Novotsono, Nagaland
Haryana has become first State/UT Government, to implement Digital Life Certificate (Jeevan Pramaan Patra) for State Government Pensioners, who are drawing their pensions from State Treasuries & Sub Treasuries. There are around 29000 pensioners and 110 Treasuries & sub-Treasuries in Haryana. Hon'ble Prime Minister of India had launched Aadhaar Enabled Jeevan Pramaan Patra (Life Certificate) System on 10th November, 2014, as part of "Digital India"
...
Neeraj, Haryana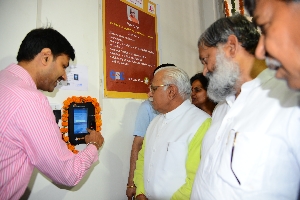 As part of "Digital India" program, the DeitY, Govt of India, alongwith NIC have implemented Biometric Attendance System (AEBAS) in Central Government Ministries/Departments in Delhi since October 2014. The implementation of system in Central Government in Delhi is seen to have had a significant positive impact on attendance of employees, bringing greater discipline & punctuality in the government offices. Taking forward, Chief Minister Haryana has launched
...
Neeraj, Haryana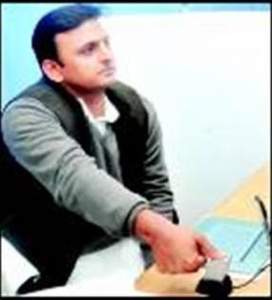 Chief Minister of Uttar Pradesh Shri Akhilesh Yadav launched the SMART card based driving license in the state on 9th January 2013 at the regional transport office Lucknow. Under this scheme, the new DL will come in tamper proof plastic cards embedded with a microprocessor chip. The chip will have important details of the applicants like name, date-of-birth etc.. The 'SARATHI' software developed by National Informatics Centre is being used to digitize the applicant's information
...
Anshu Rohatgi, Uttar Pradesh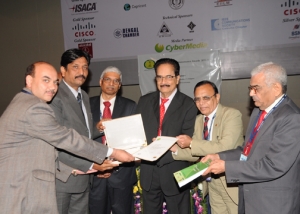 The Manav Sampda initiative, developed and implemented by NIC Himachal Pradesh State Centre as a complete Human Resource Management solution, has won the CSI eNihilent Award of Excellence under the G2E Project category. The Awards were presented in the recently held CSI Annual Convention at Kolkotta on 2nd December 2012. Dr. Saurabh Gupta, State Informatics Officer and Sh. Sanjay Kumar, Principal Systems Analyst received the award in the CSI Annual Meet in Kolkotta. Manav Sampada is
...
Ajay Singh Chahal, Himachal Pradesh
Search Online News